3 Manufacturing Quality Control Best Practices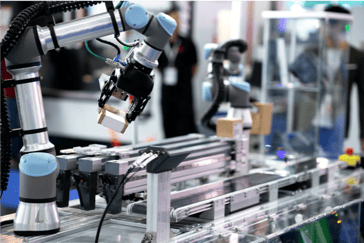 How many products does your manufacturing organization produce every day? 100? 1,000?
If a machine is causing a defect, its output won't be up to the necessary standards. Left unchecked, this has a massive impact on your scrap rate and, ultimately, your revenue.
Luckily, a quality control program remedies these issues.
To help you get started, follow these quality control best practices for automating, inspecting, and tracing products from start to finish.
1. Automate
The introduction of automation allows manufacturers to produce quality products at a faster rate and lower cost.
Not only that, but automation also improves quality in the following ways:
Improves accuracy. Many products require exact installations, measurements, and placements. Automation improves accuracy to ensure consistent results.
Eliminates human error. Automated systems eliminate the possibility for errors based on human restrictions.
Increases visibility. With sensors and triggers, automated systems can monitor machines to identify breakdowns and malfunctions that cause defects.
2. Inspect
Product inspection allows manufacturers to verify quality at different stages of the production process.
Inspection involves measuring, examining, testing, or gauging characteristics of the product and comparing the results against specific requirements. By inspecting raw materials and components pre- and post-production, as well as partially produced parts, manufacturers can depict potential defects more efficiently, saving time and money.
This ensures the processes used to design, test, and produce products is done correctly, and in accordance with regulatory and statutory standards. Furthermore, with more data over time, your plant can continually improve processes.
3. Trace
Traceability has become a critical requirement for manufacturers to gain greater control over product and process quality.
A quality management system (QMS) allows manufacturers to better trace all of the activities involved in the production process to:
Provide timely reporting
Track supplier performance
Troubleshoot quality problems
Predict patterns
Improve production scheduling
Increase customer service levels
In turn, this provides manufacturers the means to create a long-lasting quality control program that eliminates downtime and defects, as well as waste and rework.