3 Factors to Consider When Selecting a Quality Management System (QMS) for Your Manufacturing Business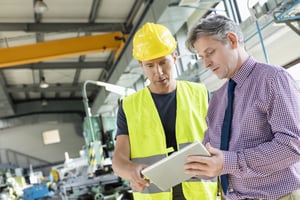 Does your manufacturing business have an effective quality management system (QMS)? If not, it may be time to consider the benefits of improving your QMS to formalize processes and procedures.
For manufacturers that are focused on product and process improvement, proper QMS implementation will lead to increased productivity and profit. But, how do you know which QMS is right for you?
Before selecting a QMS, consider the three main factors of a system and how they will benefit your business.
1. Compliance
With ever-evolving regulations, compliance is more complicated than ever. It's essential for manufacturing businesses to select a QMS that satisfies regulatory and statutory standards related to a product or service. Of course, it needs to meet customer requirements as well.
The ISO 9000 Family of Standards specifies all the requirements needed to implement a QMS. These standards are based on several key clauses that manufacturers can use to improve product and process quality, including:
Customer focus
Engagement of people
Evidence-based decision making
Improvement
Leadership
Process approach
Relationship management
This forms a framework for planning, executing, monitoring, and improving the performance of a QMS to enable better business.
2. Security and Support
Did you know that manufacturing is one of the most susceptible industries to cyber attacks? When it comes to implementing a QMS, security is paramount. A breach of internal or external quality-critical documents can be catastrophic to your business. Yet, less than half of manufacturers have taken basic steps internally to protect processes from a security breach.
Coordinating quality management initiatives among manufacturing sites and suppliers is one of the primary goals of a secure system. A QMS must be compatible with industry standard security practices, such as a two-step verification process, to safely store confidential information.
3. Training
Your QMS is only as good as the users behind it. Proper training ensures your manufacturing business gets the most out of its QMS.
When implementing a new system, train employees on the basic features and functions of the QMS, including:
Auditing and corrective actions
Control plans
Certification requirements
Policies and procedures
Continuous improvement processes
Process maps
Work instructions and training records
While there are many factors to consider in your search for a QMS, functionality should not be the only driver in selecting a system. A QMS should be scalable, so it can grow with you as your manufacturing business expands.
Do You Need to Improve on Product and Process Quality?
Product and process improvement is a top focus for Northeast Ohio manufacturers—is it for your business? Take our short, 5-question assessment to discover if product and process improvement is where your company is excelling, and which critical weaknesses could be hampering your growth.