BOARD OF DIRECTORS
Manufacturing growth champions in Northeast Ohio.
MAGNET's board of directors is an integral part of the mission to grow and strengthen manufacturing in Northeast Ohio. With more than 25 members, the MAGNET board has manufacturing leaders working side by side with community, education and consulting professionals who share a passion for the industry. Together, the board helps set MAGNET's strategy and connects MAGNET to the community.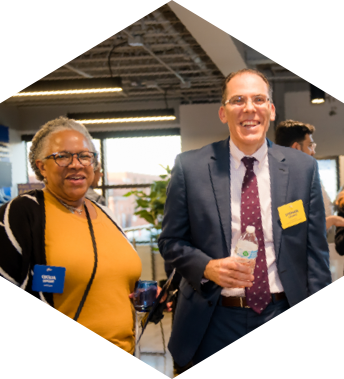 EXECUTIVE COMMITTEE
Board Chair
Stephen Lovass, Executive VP
Nordson Corporation
Felix M. Brueck, Board Chair
Reflection Point
David Jarus, Principal
Innovation for Profit
Former Manufacturing CTO
Jack H. Schron, President
Jergens Inc.
Jeff Sinclair, Adjunct Professor / Managing Director
University of Michigan / Caithness LLC
Aaron Swartz, Managing Partner, Akron Office
EY
BOARD OF DIRECTORS
Marcia Ballinger, President
Lorain County Community College
John R. Brandt, CEO
MPI Group
Peter Broer, President
Lumitex, Inc.
J. Scott Cade, Managing Director
Cade Consulting Partners
Michael Canty, President and CEO
Alloy Precision Technologies
Larry Fulton, President
Hanlon Composites, LLC
Mike Garvey, CEO
M7 Technologies
Center Street Technologies
Ron Hammond, Chief Supply Chain Officer and VP
GOJO
Eric Hillenbrand, Managing Director, Retired
AlixPartners, LLP
Tim Holmes, Head of Corporate Banking
PNC Financial Services
Kevin Johnson, Managing Partner
NexGen Interactive
Doug Lance Sr., SVP, President Cleveland Operations
North America
Lincoln Electric Company
Elie Merheb, President and CEO
Kent Adhesive Products
Jay Nordholt, VP of Continuous Improvement & Quality
Swagelok
Steven Senkfor, CEO
Gates Pike Consulting
Former Manufacturing CEO
Sanjay Singh, Executive Chairman
MACE Security International
Ed Steele
Carolee Vanicek, VP Manufacturing
TimkenSteel