MAGNET believes a healthy manufacturing base will help create more prosperity in Northeast Ohio — and we're not the only ones! Our funding sources are varied, coming from earned revenue fees for work with manufacturers, government grants, federal and state MEP funding, Ohio Third Frontier and philanthropic support.
As a nonprofit organization, this vital support ensures that our services can be accessed by the thousands of small- and medium-sized manufacturers in Northeast Ohio that need high-quality consulting at affordable rates.
Addressing fundamental market gaps — access to Industry 4.0 technologies, innovation and startup services, process and marketing support, growth advising and workforce development — is possible because of these legislatively supported initiatives.
MAGNET offers its deepest gratitude to all who share their energy, resources and financial support to help MAGNET create a thriving Northeast Ohio manufacturing sector. Together, we are positively impacting our communities!
MAGNET gratefully acknowledges the following donors to our Building Prosperity Capital Campaign, which culminated with the opening of the Manufacturing Innovation, Technology and Job Center in October 2022.
$500,000+
City of Cleveland
Cleveland Foundation
Cuyahoga County
The George Gund Foundation

Lincoln Electric

The Lozick Family Foundation

Nordson

Ohio Department of Development

Parker Hannifin

Sherwin-Williams Company
The Kelvin & Eleanor Smith Foundation

State of Ohio
Swagelok

TransDigm Group
$100,000-$499,000
Anonymous

Felix Brueck

Cleveland-Cliffs

Deaconess Foundation

Fund for Our Economic Future

JobsOhio

M-7 Technologies

Nord Family Foundation

PNC

Timken Foundation of Canton
$1-$99,000
Anonymous (3)
3M
AlixPartners
Alloy Precision
Applied Industrial Technologies
Arthur Anton
Marcia Ballinger
Nick Barendt
Benesch
Bettcher Industries
John Brandt
Buckeye Mask Company
BWXT
Mhoire McGrath Cade & James Scott Cade
Calfee
Lee & Katherine Chilcote
Cresent Digital
Cuyahoga Community College
Ward Dumm
Delta Systems
Eagle Elastomer
Alexis & Mariana Edelman
EY
Bober Markey Fedorovich
First Power Group
Jim Garrett
Ron Hammond
Helix Linear Technologies
Ned Hill
Timothy J. Holmes
Hylant
Jergens
Jones Day
Ethan & Michelle Karp
Kaulig Foundation
Kent Adhesive Products Company (KAPCO)
KeyBank
Kirtland Capital Partners
Stewart Kohl
The Krill Company
KWW
Doug & Sharon Lance
LEFCO Worthington
Little Mountain Industries
Stephen & Helen Lovass
Lumitex
Chris and Jerilyn Mapes
McKinsey and Company
Michelle Mooney
Oatey
Oswald
Brad Roller & Laura Pederson
The Riverside Company
Richik Sarkar
Sisters of Charity Foundation of
Cleveland
State Industrial
Steve Senkfor
Jack & Mary Ellen Schron
Jeff Sinclair
Livi Steel
Susan & John Turben Foundation
TalentLaunch
Tim Rosengarten
Ulmer
Carolee Vanicek
Weathertop Foundation
Weinberg Capital Group
Westfield
Wild Ones Youngstown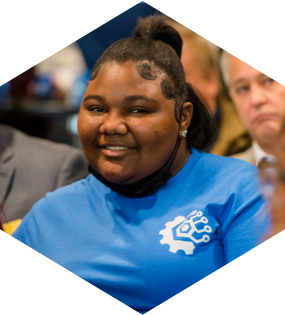 Our ongoing programming through our Consulting and Talent Development teams is grateful to the following supporters who have recently made gifts to MAGNET.
Bank of America Charitable
Foundation
The Century Foundation
Cleveland Foundation
Cuyahoga County
Cuyahoga County Solid Waste District
Deaconess Foundation
Dominion Energy Charitable
Foundation
Economic Development Administration
Fund for Our Economic Future / Cuyahoga County Workforce Funders Group
Mitch and Shira Green Family Fund
The Higley Fund
Huntington
JobsOhio
John Huntington Fund for Education
The Louise H. and David S. Ingalls Foundation
Fred A. Lennon Charitable Trust
Lincoln Electric Foundation
Meisel & Pesses Family Foundation, Supporting Foundation of the Jewish Federation of Cleveland
National Science Foundation
Nordson Corporation Foundation
Ohio Department of Development
Ohio Department of Higher Education
PNC Foundation
The Reinberger Foundation
The Reuter Foundation
Schron Family Foundation
Stanley Black & Decker
Swagelok Foundation
The Treu-Mart Fund, Supporting Organization of The Cleveland Foundation and the Jewish Federation of Cleveland
Thomas H. White Foundation
WorkRise, hosted by the Urban Institute