The Basics of the Industrial Internet of Things (IIoT) for Manufacturers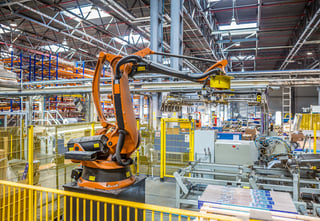 According to our 2019 State of Northeast Ohio Manufacturing Report, Industrial Internet of Things (IIoT) technologies are top of mind for most Northeast Ohio manufacturers. However, of survey respondents, only 16% say they've implemented IIoT.
A recent Team NEO resource identified that many manufacturers don't know the full breadth of IIoT technologies, and they're not sure what ROI it would have.
Reasons for manufacturer resistance to IIoT are broad, but perhaps folks believe work is going fine, focus is tied up in current production and processes, or there is skepticism about the advantages.
So what exactly is IIoT, and how relevant is it to small- and medium-sized manufacturers today?
The IIoT is not going away and therefore must be implemented in the coming years to increase manufacturing competitiveness and efficiency. While hesitation is natural, we recommend starting with the basics of IIoT below to see how it can apply to your facility.
What Is the Industrial Internet of Things (IIoT)?
IIoT is the use of those connected technologies to enhance manufacturing and industrial processes. It utilizes software, sensors, data systems, and more in manufacturing to improve speed, efficiency, and business performance.
The worldwide market for the IoT was $16.3 billion in 2016 but is expected to reach $185.9 billion by 2023, illustrating the relevancy of IoT for all industries during the coming years and decades.
MachineDesign.com, a technical resource created primarily for mechanical engineers, offers some examples of common IIoT use cases available today:
Preventive maintenance: Records and communicates run-times or equipment cycles to avoid or predict asset downtime before it happens.
Predictive maintenance: Provides warnings for conditions that indicate impending failure.
Energy consumption monitoring: Provides power-consumption rates and assists in decisions to adjust equipment power usage to avoid peak-use energy penalties.
In-line quality sensors: Delivers real-time data to the quality-assurance department to reduce labor for regulatory sampling, allowing for quick reaction to quality issues with raw materials or finished products.
Batch optimization: Gives process engineers batch data and trends to optimize product production, "including improvements to mixing, heating, and cleaning times."
Proportional-integral-derivative (PID) loop tuning:Time-series process data used for "PID loop-tuning improvements, mechanical performance issues of control valves, or finding root causes of process variations."
Inventory planning assistance: Offers real-time inventory information, which can improve scheduling, shipping, and raw materials and finished goods ordering.
How to Get Started with IIoT
With potential IIoT use cases across an entire manufacturing process, it can be overwhelming to know where to start.

Start with a Problem
A common misconception is that IIoT adoption is not worth the cost or effort. An IIoT solution, as the word solution signifies, must solve a problem.
Consider:
Does your facility run at 100% efficiency? If not, where are the breakdowns?
Do you ever experience unscheduled downtime? Why?
If communication breakdowns occur, where do they happen?
In any of those situations, IIoT can help. The key is to identify a problem, then assess IIoT solutions that can alleviate it.
When we talk to manufacturers, misconceptions or a lack of awareness about this emerging technology turn them off to the possibility of integration. Another common concern is that manufactures believe they won't be able to calculate an ROI.
Address Cybersecurity Risks
As you add IIoT devices to your manufacturing network, it becomes increasingly important to manage your cybersecurity.
Cybersecurity risks are inherent concerns of IIoT. Circumventing the problem first requires awareness that it exists. Horror stories of IIoT cybersecurity breaches result from a lack of awareness, planning and training.
A manufacturing-specific report addresses this concern by providing preventive measures you can use to reduce your potential risk, including:
Penetration testing
Ongoing system optimization/security patches
Employee training and testing on safe Internet and system use
Knowing who has access to internal systems and critical information
Monitoring activity logs to identify patterns of abuse
Having a clear plan and process for dealing with cyber security breaches, such as "what-if" scenarios to determine how you'll address potential issues
>>>Related Resource: 3 Types of Cyber Attacks Your Manufacturing Business Needs to Anticipate
Uncover More on the IIoT with Local Manufacturers
Do you think the Industrial Internet of Things (IIoT) is too complicated, expensive, and time-consuming to make sense for your company? Attend Future Factories: A Symposium of Manufacturing Talent, Technology, and Tactics, a local event for manufacturers on Thursday, September 26. At the breakout session on smart factories and IIoT, you'll hear local small manufacturers talk about the technologies, best practices, and results they've seen through their implementation of Industry 4.0.