3 Lessons Learned from Manufacturing Executives at the Future Factories Symposium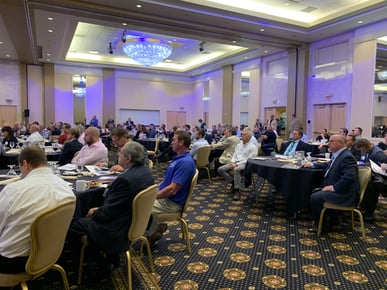 On Thursday, September 26, local manufacturing executives gathered at the 8th Annual Northeast Ohio Manufacturing Symposium, Future Factories: A Symposium on Manufacturing Talent, Tech, and Tactics. This year's event was hosted by MAGNET: The Manufacturing Advocacy and Growth Network, EDGE, Greater Cleveland Partnership, Manufacturing Works, and Cleveland Engineering Society (CES).
This year's theme focused on new advances in the industry to help manufacturers create a plan to achieve both progress and growth across their businesses. Sessions and speakers focused on strategy planning, Industry 4.0 technologies, operational excellence, solutions to the skills gap, and legislation affecting Northeast Ohio manufacturers.
In case you missed it, here are 3 lessons from the various sessions and speakers.
1. Engage Talent
How engaged are your employees? In the session Achieve Operational Excellence from People to Plant, Mark Lamoncha of Humtown Products, Regan McHale of Eagle Elastomer, and Rick Wiltse of Tremco discussed how to tap into today's manufacturing talent.
One way to do that is through technology, according to Lamoncha. His patented, real-time pay rate system combines software and technology to give workers real-time data showing how their efforts contribute to their paychecks.
"Engagement is the fuel of the future. By implementing visual rates for our workers, we have tripled net earnings," said Lamoncha.
McHale believes engagement starts with benefits. His manufacturing organization uses a 9/80 schedule that allows workers to take one day off in every two-week work cycle.
As for Wiltse, he creates an atmosphere where people want to do their best. "People don't quit their job. They quit their boss."
In an industry where only 25% of manufacturing employees are considered engaged, Wiltse follows the people-centric leadership framework to build trust. This involves demonstrating competence, acting with integrity, and establishing a link with the people he works with.
2. Utilize Technology
How smart is your factory? In a session titled, Industry 4.0 is Ready for Prime Time, Nick Kennedy of FlexArm and Joe Onderko of CORSA touched on Industry 4.0 technologies to achieve growth in manufacturing.
"We knew we wanted to get smarter, faster… so robots were the answer," said Kennedy.
FlexArm offers drilling and tapping arms to catch chipped taps before they break off in parts.
Since introducing their robotics program, FlexArm has increased production tenfold. "We're able to free up machinists to do more skilled tasks," said Kennedy. "Looking ahead, our goal is to run 16-hour shifts with only one hour of changeover time."
CORSA, a manufacturer of high performance exhaust systems, headers, and air takes, has reaped the benefits of robotics, too. With the help of a robotic welding system, CORSA is able to quickly and safely weld seams.
Before automation, it took CORSA up to 20 minutes to weld a muffler. Today, the system produces a muffler in two minutes.
3. Assess Tactics
What tactics do you deploy at your manufacturing organization? In the keynote presentation titled, Six Keys to Getting What You Want From Your Entrepreneurial Company, Mike Paton of EOS Worldwide explained how talent and technology means nothing without traction.
According to Paton, most entrepreneurs aren't getting everything they want from their business—financially, emotionally, or otherwise. This is often the case for manufacturing owners who spend most of their time on the business, not in it.
With the help of an Entrepreneurial Operating System (EOS), manufacturing owners can adopt a balanced approach to growth without losing track of the business. But to do so, manufacturers must strengthen these six key components first:
Vision: Get everyone in the organization aligned on where you're going and how you'll get there
People: Hire the right people in the right positions
Data: Use data to get a pulse on where things are
Issues: Eliminate issues by working together as a team
Process: Enact processes to get things done right the first time
Traction: Bring your vision down to the ground and execute on it
By focusing on these tactics, manufacturers can scale faster.
This year's symposium offered tangible tactics for manufacturing organizations to achieve growth in talent, technology, and more.
Stay Informed On Upcoming Manufacturing Events
Want to keep up with the latest manufacturing trends in Northeast Ohio? Need to take advantage of local resources and organizations that could connect you to the right people? Curious about which local events are relevant to your business?
MAGNET's newsletter is your one-stop shop for manufacturing tips, curated insights, regional manufacturing events, and more. Subscribe today.