How a Northeast Ohio Manufacturer Built the World's Largest Production-Based Additive Machine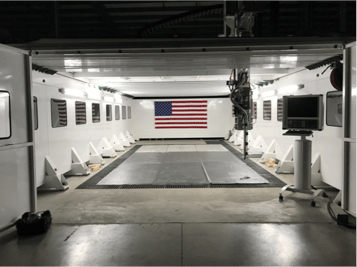 Take a guess: Where does the world's largest additive machine reside? A large city like Boston? A huge tech hub like Silicon Valley?
You may be surprised to learn that the correct answer is right in your own backyard in Youngstown, Ohio.
In 2017, a group of forward-looking manufacturers saw the market's need for ultra-large additive production capability. With this vision, Mike Garvey, CEO of M7 Technologies; Chuck George, CEO of Hapco; and Slade Gardner, PhD, chief scientist, came together to form Center Street Technologies.
As a next step in the business, Center Street Technologies wanted to develop and scale an additive machine that would have the precision and accuracy needed for production use, while also being cost effective for the end-user. While many additive machines were already on the market, those options were limited to small or pilot research usage only.
Additive manufacturing can produce parts that are more complex at a more efficient rate than subtractive technologies. Due to its size and scale, Center Street Technologies intended for this machine to produce parts large enough for industrial usage, versus smaller parts like checking fixtures and product development prototypes.
Center Street Technologies knew the market for the new machine was there, but did not have the resources or expertise to design and build the machine. That's when they turned to MAGNET to consult on design, build, and delivery and start-up of the machine.
MAGNET'S Key Role in Creating the Perfect Custom Machine
To ensure Center Street Technologies' new, custom machine project was completed as smooth as possible, MAGNET served as the program manager for the project. Specifically, MAGNET:
Designed and finalized specifications
Engineered specific machine components
Identified and vetted suppliers
Purchased the needed components and sub-systems
Prepared the site for installation
Coordinated system assembly and startup
The end result? Center Street Technologies debuted the world's first and largest additive machine—so large, a Ford F-150 can fit inside. The company has also become more competitive and manufactures new products thanks to its additive manufacturing machine (24' x 12' x 8'), which combines additive extrusion-based 3D printing with 3-axis CNC machining and high-fidelity automated metrology.
"This machine is the largest 3D printer right now. But more importantly, it's the most capable…. It's able to generate a product and a digital twin, all at the same time. This technology enables the creative person that may not have the budget of a large corporation to pursue their manufacturing or creation dreams."
—Slade Gardner, credit MTS 2018 AM Conference Keynote: Industrializing Additive Manufacturing
Much-deserved recognition has extended far beyond the manufacturing process. Mike Garvey was awarded MAGNET's 2018 Innovator of the Year at the Annual Northeast Ohio Manufacturing Symposium.