The Stories on the Wall: Heroes of Manufacturing
The individuals on MAGNET's mural represent just a handful of the heroes of manufacturing, engineering and entrepreneurship – the people who design, engineer and create the pieces and parts that run our world. Our hope is that these individuals – through their placement on the mural and information shared – will inspire the next generation of youth to pursue careers in STEM (science, technology, engineering and math) fields.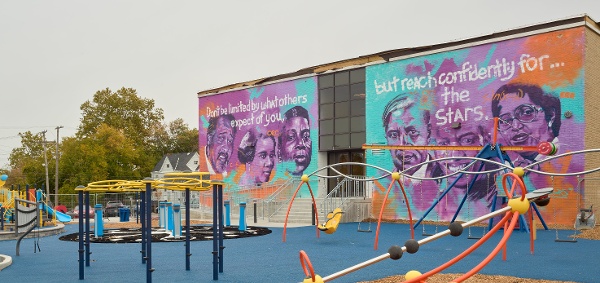 From left to right on the mural:
Gerald "Jerry" Anderson Lawson (Dec 1, 1940 – April 9, 2011) was an American electronic engineer. He is known for his work in designing the Fairchild Channel F video game console as well as leading the team that pioneered the commercial video game cartridge. He was thus dubbed the "father of the videogame cartridge" according to Black Enterprise magazine in 1982. Learn more.
Madam CJ Walker (1867-1919) was a Black entrepreneur, philanthropist, and political and social activist. She is recorded as the first female self-made millionaire in America in the Guinness Book of World Records. Walker made her fortune by developing and marketing a line of cosmetics and hair care products for Black women through the business she founded, Madam C. J. Walker Manufacturing Company. She became known also for her philanthropy and activism. Learn more.
Ursula Burns (1958 - ) is an American businesswoman. She is best known for being the CEO of Xerox from 2009 to 2016, the first Black woman to be a CEO of a Fortune 500 company and the first woman to succeed another as head of a Fortune 500 company. She additionally was Xerox's chairman from 2010 to 2017. Among other civic positions, Burns was a leader of the White House's STEM program from 2009 to 2016 and head of the President's Export Council from 2015 until 2016. Learn more.
Garrett Morgan (1877-1963) was an African American inventor, businessman, and community leader. His most notable inventions were a three-position traffic signal and a smoke hood (a predecessor to the gas mask). Morgan also discovered and developed a chemical hair-processing and straightening solution. He created a successful company based on his hair product inventions along with a complete line of haircare products and became involved in the civic and political advancement of African Americans, especially in and around Cleveland, Ohio. Learn more.
Guion Bluford (1942 - ) is an American aerospace engineer, retired U.S. Air Force officer and fighter pilot, and former NASA astronaut where he was the first Black American (second person of African descent) to go to space. Before becoming an astronaut, he was an officer in the U.S. Air Force, where he remained while assigned to NASA, rising to the rank of colonel. He participated in four Space Shuttle flights between 1983 and 1992. Learn more.
Shirley Ann Jackson (1946 - ) is an American physicist and was the 18th president of Rensselaer Polytechnic Institute. She is the first Black woman to have earned a doctorate at the Massachusetts Institute of Technology (MIT). She is also the second Black woman in the United States to earn a doctorate in physics. Learn more.
Special thanks to mural artist Darius Steward, a native Clevelander, who through his work addresses cultural and societal conflicts and opens conversations across racial, socioeconomic, gender and cultural lines. Learn more at: www.dariussteward.com.
The opportunity to have and creation of the mural is supported by Westfield.