The Key to Product Development and Design: Early and Constant Customer Feedback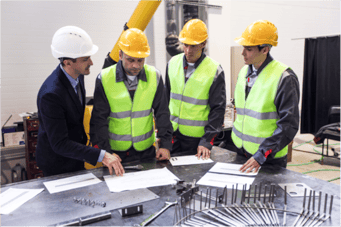 Product design requires many phases. It's the process of identifying market potential by clearly defining a problem and offering a solution.
But, at its core, it revolves around the customer's opinions.
A successful product design hinges on the needs of the customer, and you'll get it right every time by leveraging customer feedback from the beginning stages and through every iteration of your product.
1. Customer Feedback Informs Research and Development
Customer feedback is an invaluable resource to the research and development phase of product design. In the early stages of research, manufacturers can glean insights from customers by conducting focus groups.
Focus groups allow manufacturers to interact with participants to gather thoughts and feelings about a prospective product. They're able to answer questions like:
Who is our ideal customer?
What problems are we trying to solve?
How does our product solve those problems?
What are the key features and functionalities of our product?
Additionally, manufacturers can reach out to past and present customers of other products or services they may already offer to gather feedback on their previous experiences. This information helps manufacturers identify what customers care about most, so they can tailor product designs accordingly.
2. Customer Feedback Verifies Market Potential
Before getting too far in product development, manufacturers must also verify market potential. This is the process of collecting and analyzing information to determine whether your product is of interest to a target audience.
Industry trends and changing customer needs can shape where a manufacturer focuses efforts and resources. By simply engaging with customers and asking the right questions, you can confirm whether there's a market for your product.
>>>Related Resource: 10 Steps to Develop an Effective Marketing Plan Before You Launch Your New Product or Service
3. Customer Feedback Aides Iteration
Feedback is also essential to the iteration phase of product design. When you present customers with various prototypes, they can compare and contrast the alternatives and identify what they like and dislike about each version.
This allows you to test, analyze, and refine a product based on customer specifications before going to market. It also opens the door to honest communication between you and your customers, laying the foundation for lasting relationships.
4. Customer Feedback Boosts Loyalty
Lastly, feedback is the key ingredient to attracting and retaining loyal customers long after the product development stages.
If you're constantly asking customers to provide you with feedback, you're establishing a continuous improvement process for your product.
When you involve customers in this process, you're communicating that their attitudes and opinions matter. You can identify what's working and what's not to ensure your product adheres to their needs. Not only does this create a positive user experience for the customer, but it also boosts loyalty.
To ensure customers are satisfied with your product, listen and respond to their requests and needs. Taking these steps to solicit feedback throughout each phase results in your best product going to market.
Subscribe to Our Newsletter for More Manufacturing Insights
Want to keep up with the latest manufacturing trends in Northeast Ohio? Subscribe to our newsletter to receive manufacturing tips from our subject matter experts in lean manufacturing, operations, product development, sales and marketing, and more.