How Products and Services Fit Into a Successful Manufacturing Strategic Plan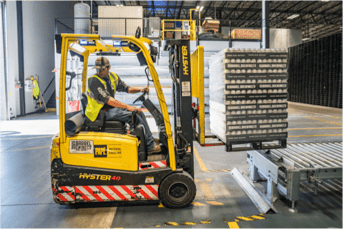 This post is part of a series on creating a manufacturing business strategic plan, which reflects your goals and guides the strategic direction of your company. This is the second post in the series. Click here to read the first post about the importance of a market analysis.
A well-documented and researched strategic plan is your guide to the future of your business' success. It's a written description that explains the type of company you're building and the steps you're taking to get there. And the most effective selling point? Likely the actual product or service you offer.
The product and service section of your strategic plan helps you showcase what it is you're actually selling. It's an in-depth look at all the components of your offering with an emphasis on the value they provide to customers.
To create a plan that not only guides you and your employees, you need a strong products and services section.
Key Components of Products and Services
Although product and services sections vary depending on the actual offering, MAGNET recommends including these key components:
Unique features: Highlight your product's most compelling characteristics, such as speed, quality, or size. Are you the first? The best?
Differentiators: What sets your product or service apart from your competitors? How do you stand out? Explain what problem your offering solves, and how it resolves the issue better than anyone else.
Target buyer: Document the ideal buyer in terms of industry, decision-making authority, and title. This information will help you as you move into the marketing phase of your product or service.
Intellectual property: Does your product or service have a patent? Have you copyrighted your idea? Or have you chosen to keep it a trade secret? Note all patents, copyrights, and trademarks you own or have applied for.
Suppliers and their terms: Investors and partners want to know how much it costs to make your products and also how much money they generate. This helps them determine the profitability of your business.
Special processes: Detail any special equipment, technology, or material you need during manufacturing. And remember the people, too; perhaps the production process requires a certain skill level or specialty.
Why Products and Services are Important
Products and services are the foundation of business. This is where you get to showcase the quality and value of what your business does. However, your products and service section is much more than just a description of your offering.
Products and services sections in successful manufacturing businesses address the following questions:
What are the consumer benefits?
What unique features do your products or services have?
How do you manufacture your products and services?
What technology do you use to make your products and services?
How do you sell your products and services?
Who are the major competitors in the market?
What are the features and benefits of your competitor's products and services?
What are the key differences between your offerings and your competitors?
An effective products and services section clearly and concisely answers these questions. Don't assume everyone is familiar with what you're selling. Use simple terms and avoid being too technical, so your team and prospective buyers understand your unique value proposition.
Looking for More Tips to Tackle Your Manufacturing Strategic Plan?
Subscribe to MAGNET's email newsletter to receive manufacturing tips from our subject matter experts in lean manufacturing, operations, product development, sales and marketing, and more.