Grand Opening of "Rubber City" MAGNET Akron Location [Event Recap]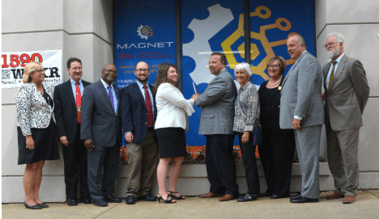 On August 8, 2018, MAGNET opened its doors to a new location at 9 North Main Street in Akron, Ohio.
"We help local manufacturers grow and compete globally, and increasing our presence in Summit County is critical to achieving that mission," said Ethan Karp, CEO of MAGNET.
As MAGNET expands its efforts, the mission remains the same—to fuel Ohio manufacturing growth for lasting economic impact.
With this new location, MAGNET is focused on serving the 1,300 manufacturing business of Summit and Stark counties. Grand opening attendees got a sneak peek into what that will look like.
A Look into the Day's Events
MAGNET Akron - Grand Opening Video from Akron Video Makers on Vimeo.
Local manufacturing experts were on-site at the new location, as well as several speakers, including:
Connie L. Krauss, Director of Community and Economic Development for Summit County Executive, Ilene Shapiro's Office

Dan Horrigan, Mayor of Akron

Dennis Saunier, PResident and CEO of Canton Regional Chamber

Samuel DeShazior, Deputy Mayor and Economic Development Leader, Akron Maybe Daniel Horrigan's Office

Steve Millard, CEO of the Akron Regional Chamber

Steven Meek, COO of Canton Regional Chamber

Sue Lacy, President of ConxusNEO

Tony Troppe, Downtown Arts Historic Building Owner
Grand opening attendees enjoyed tours of the new space, as well as interactive displays from local manufacturing businesses, such as the Akron Soap Box Derby, Technology House, GOJO and Coastal Pet Products.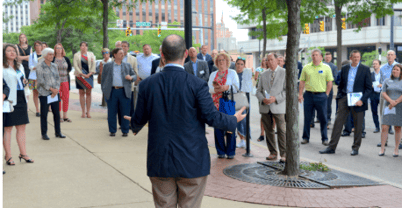 Local media was also invited to capture the day's events, with features from the following:
Looking into the future, MAGNET is hopeful to to propel manufacturing growth in Akron, across Ohio and beyond.
"We can bring manufacturers the best resources our nation has to offer—experts from NASA, the University of Akron or an economic development organization like BioEnterprise. We make these connections, but we also roll up our sleeves throughout process until manufacturers reach their goals successfully and profitably," said Darlyn McDermott, MAGNET's market leader for the southern region.
Grow Your Manufacturing Business with MAGNET
Are you ready to grow? MAGNET growth experts can help you achieve product and process excellence across your business. Contact us today for a free consultation.