Transformation
From engineering products and machines to enhancing strategy and cybersecurity, our manufacturing experts are your partners to help you reach new levels of success.
Innovation
MAGNET can help you build a working prototype, construct a persuasive pitch, develop a manufacturing process, or design a go-to-market plan.
Talent
MAGNET brings together the resources, development opportunities and leadership needed to launch people in manufacturing careers.
Leadership
MAGNET is a servant leader. We champion systems and investments that drive manufacturing growth in Northeast Ohio to lead the world in smart manufacturing.
For more than 30 years, MAGNET has been driving Northeast Ohio's manufacturing growth by supporting small- and mid-sized manufacturers.
Manufacturing growth is economic growth.
3rd
Ohio's national rank
for manufacturing employment after
California & Texas
45%
Of Northeast Ohio's
largest private employers are manufacturers
700,000
The number of manufacturing jobs in Ohio
3.6
Additional jobs created by each manufacturing job
50%
Of all Northeast Ohio jobs directly depend on manufacturing
Hispanic Heritage Month Lunch and Learn
Upcoming: October 23, Noon - 1:30 pm
MAGNET will host a Lunch & Learn in celebration of Hispanic Heritage Month. We will host Miguel Lugo, COO of E.C. Kitzel. Miguel will share his personal journey and career pathway in manufacturing from shop floor to C-suite as a Chief Operating Officer (COO) of a manufacturing company. Join us this Monday for food, networking, fun and to celebrate diversity in manufacturing!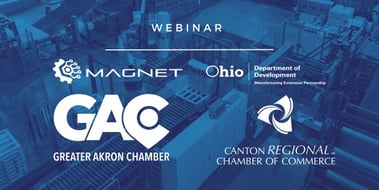 Lunchtime Webinar Series
Upcoming: To Be Determined
Don't miss out on this monthly series featuring experts from different manufacturing partners, businesses and organizations from across Northeast Ohio. Come back soon to learn about and register for the August installation of this series.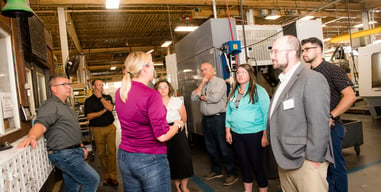 Lighthouses & Industry Events
Upcoming: July 19, Noon
From smaller local events to national conferences being held in our region, don't miss out on the opportunity to learn about the best and newest manufacturing techniques and connect with industry leaders though these events.
Sign up for our
newsletter.
We'll keep you informed about the latest Northeast Ohio
manufacturing intel in a polite and engaging way.