5 Reasons Outdated Manufacturing Equipment Equals Higher Maintenance Costs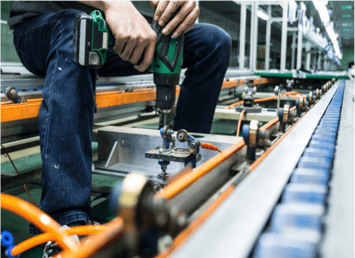 Many manufacturers overlook the lifespan of their machinery. While well-built machines may run for decades, they may not be performing at today's high machinery or technology standards.
Outdated, unmaintained machinery results in costly repairs and repetitive maintenance. This puts a screeching halt on the production process, increases unplanned costs, and negatively impacts overall efficiencies.
Here are 5 reasons why outdated machinery requires continuous investment.
1. Unplanned Downtime
Machines keep production moving. When unplanned downtime occurs, overall efficiencies and the company's bottom line can take a huge hit.
Unplanned downtime can happen to any machine, but with age, the risk increases. Constant malfunctions are a sign of a unmaintained machine—just like a car, the right maintenance and parts help a machine run correctly for longer periods of time without downtime. The more misuse or a lack of a maintenance a machine faces, the more issues and shorter service life occur.
According to Arimo, manufacturers can deal with up to 800 hours of downtime annually. Imagine how low the total downtime cost (TDC) would be if you could avoid repeated incidences by upgrading your machinery.
2. Limited Availability of Spare Parts
Depending on how old the machine is, spare parts may be difficult to source. The outcome? It may fall on you to spend money to stock these parts in-house rather than depending on the machine supplier for support. This leads to longer shipping periods and inevitably a slower production process.
Slower production creates issues with scheduling, impacts up and downstream processes and customer delivery schedules, and increases the need to expedite parts.
3. Cost of Outdated Parts
When a machine becomes outdated, the price of parts may fluctuate depending on their availability. Some may become more expensive or be discontinued and classified as obsolete.
Although a new machine is an investment, the lowered risk of downtime and increased production generally offsets the price tag.
4. Little Support from Original Machine Manufacturer
When a new machine is purchased, there is a typical standard warranty attached to it. Some machine builders may provide an extended warranty or maintenance program. However, warranty programs are relatively short compared to the longevity of the machine itself.
If the warranty is no longer available due to the machine's age, repair costs may fall on you.
It is important to choose a supplier with a reliable warranty and a track record of support for the equipment they have delivered, as you cannot always predict what challenges an aged machine will create.
5. Lack of Trained Experts
As a machine becomes outdated, there may be fewer trained experts available to make specific repairs. Many times, the originally trained technicians may no longer be available to service the equipment, either by the original equipment provider or the internal staff. If there is no paper trail or any documented repair notes, the next generation of technicians may struggle to make repairs timely and cost effectively—if at all.
The search for a rare expert who can troubleshoot the problem takes time, and as we know all too well in this industry, time is money.
Could a New Machine Improve Your Overall Processes ?
A new, custom machine is just one consideration manufacturers should look at when it comes to improving overall factory processes. Looking to improve your processes using the latest technologies, and business and operations strategies? Join us for our 8th annual Northeast Ohio manufacturing symposium, Future Factories: A Symposium of Manufacturing Talent, Technology, and Tactics, on September 26 to uncover the information you need to grow.