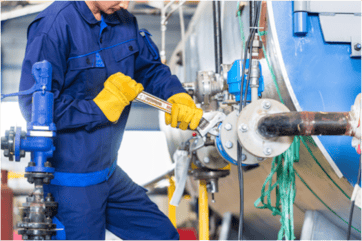 Safety is essential to every industry, but it's especially important in the manufacturing industry, where potentially dangerous machinery is used to perform daily tasks.
When facilities experience downtime for equipment failures, production comes to a screeching halt. Not only does this compromise safety, but it also affects the overall productivity of your plant, translating to lost dollars and plummeting efficiencies.
As an operations professional, it's your responsibility to keep employees safe on the job, while keeping your facility clean and organized in order to maximize productivity and efficiency across the plant. These tips are a good starting point for manufacturers when considering safety in the workplace.
1. Organize the Workspace
The easiest way to keep your facility safe and maximize productivity is to keep it organized. If your employees have to travel long distances between production lines, it's a sign of poor plant organization and you should consider reorganizing the layout of your manufacturing floor for optimal efficiency. Also, keep walkways clear by removing unnecessary materials, which prevents tripping and slipping. In doing so, you can create a smoother workflow for employees.
If a product must be transferred from one machine to another, is it possible to shorten the distance? Finding ways to simplify the organization of your plant can improve safety and maximize the efficiency of your production timelines.
2. Perform Regular Maintenance
According to Productivity Inc., a manufacturing facility's overall competitiveness, customer satisfaction, and success of lean operation efforts depend on predictable equipment performance. In order to meet customer demands and timelines and sustain a stable working environment, facilities must have fully functioning, reliable, and capable equipment.
Train employees to only use equipment for its intended purpose. If a piece of equipment is not functioning properly, instruct your employees to report it immediately and to not use the machinery until it's repaired. Furthermore, regularly cleaning and inspecting equipment lessens the likelihood of misuse. Check bolts, caps, filters, and seals to make sure your equipment is not in need of repair.
Consider implementing a preventive maintenance schedule across your facility. Preventive maintenance checks ensure safe working conditions for your employees by catching a potential problem before it happens. This boosts the efficiency and effectiveness of your facility by keeping production schedules on time, without the risk of unexpected downtime.
3. Train and Educate Employees
Employee education is an ongoing process, but it's critical to operating a safe and efficient manufacturing plant. If you give your employees the right tools to operate, they're able to do their jobs not only smarter, but also safer.
Dedicate time to employee training when new equipment or technology is installed. Ensure that all personnel are trained to adequately perform their assigned responsibilities in a safe manner by enforcing the following:
Always wear the required safety equipment (gloves, goggles, and guards)
Do not interfere with moving machinery
Never operate machinery that you weren't trained to use
Stay clear of loading zones while machines are offloading
>>>Related Resource: Manufacturers: 6 Key Questions to Assess Your Employee Engagement
How Do Your Manufacturing Peers Prioritize Safety?
According to our 2019 State of Northeast Ohio Manufacturing Report, investing in safety equipment is a top priority for manufacturers. For more information about workplace safety, plus critical challenges and growth opportunities for manufacturers in 2019, download the report.