Remarks from the 2020 Northeast Ohio Manufacturing Survey Release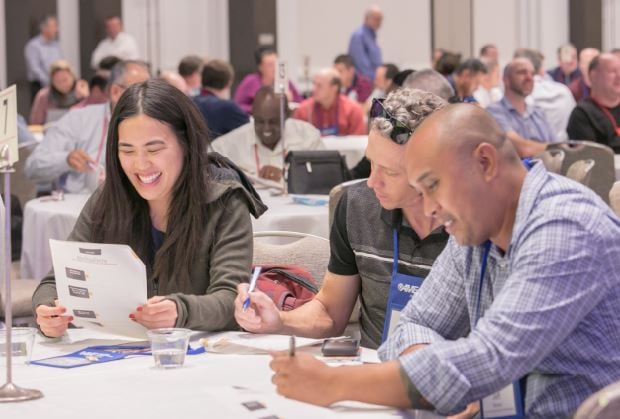 On Friday February 14th, over 200 people gathered at The City Club of Cleveland for our 2020 Northeast Ohio Manufacturing Survey Results release. The manufacturers who completed our survey represent 18% of the jobs in Ohio manufacturing, and growth, workforce, innovation, Industry 4.0, and "Cleveland's Eeyore complex" were are concerns for the coming year. However, this is not a forecast without hope.


"The story of today's manufacturing industry is not about loss," said MAGNET CEO Ethan Karp in his opening remarks, "it's about opportunity. It's about building the next 100 years. ... I believe we can become a global hub for advanced manufacturing in the next decade." Among some of the area's industry high-points, Karp mentioned: 1) manufacturing drives half of northeast Ohio's economy; (2) manufacturing can increased overall prosperity without widening the socioeconomic gap; (3) Ohio is the 3rd largest manufacturing state in the country; (4) the income from every manufacturing job delivers 4 additional jobs in the regional economy.

Joining MAGNET's CEO Ethan Karp onstage were Andrew Jackson, CEO of Elson International, Joseph Pullella, Vice President of Operations at Vita-Mix Corporation, Carolee Vanicek, Vice President of Manufacturing at TimkenSteel Corporation, and moderator Rick Jackson, Senior Host and Producer at ideastream. You can watch the entire presentation and discussion here.

Thank you, as always, to our survey partners: the Ohio Manufacturing Extension Partnership (Ohio MEP),The Ohio Manufacturers' Association,Bank of America, Barnes Wendling CPAs,Allegro Real Estate Brokers & Advisors, and to you for driving Northeast Ohio's economy.

Get your copy of the 2020 Northeast Ohio Manufacturing Survey Results for yourself, click here.

Read CEO Ethan Karp's further remarks below:

Ask any manufacturing executive about their most pressing business challenge, and you're likely to hear the same thing: finding skilled workers. 63% of manufacturers in Northeast Ohio named it as their top concern in our 2020 Ohio Manufacturing Survey. Unfortunately, it's primed to get worse. 70% of these employers are looking to add workers this year, meaning that the 8,000 jobs currently going unfilled could more than triple over the next several years.

When you consider manufacturing drives more than half of our region's overall employment, it's clear this isn't just a business challenge, it's a community challenge.

At MAGNET: The Manufacturing Advocacy and Growth Network, we see the critical need for manufacturing workers as a huge opportunity. Nowhere is that more apparent than bridging the inequity we see in Cleveland, by driving more wealth and well-paying jobs toward disadvantaged populations. The manufacturing workforce of tomorrow is not the same as the workforce of yesterday. We have to diversify our workforce – including more women, people of color, the formerly incarcerated, people with disabilities, and more – to fill these high skill, high wage positions.

To ensure that a rising tide lifts all boats, MAGNET is leading two initiatives that will offer people of all backgrounds the chance to launch careers in manufacturing through opportunities with higher education. Created in close partnership with higher education, and built on the unique strengths of each institution, these initiatives provide local manufacturing businesses the chance to develop the skilled workers they so desperately need.

First, with the support of the Cleveland Foundation, State of Ohio, and many other local philanthropic foundations and corporations, MAGNET has launched the Early College, Early Career (ECEC) program. ECEC adapts the best aspects of European-style manufacturing apprenticeships to the Ohio educational system, offering students paid internships, college credit, industry-recognized certifications, and the potential for a high-paying manufacturing job immediately after high school graduation.

As we speak, 70 pre-apprentices from ten area high schools are working at ten manufacturing companies. The majority of these students are from low-income backgrounds and under-served neighborhoods, and are experiencing manufacturing for the first time. While we are excited that ECEC is offering manufacturing careers and college classes to students, we are equally excited to create this groundbreaking collaboration between Lorain County Community College, Cuyahoga Community College, manufacturers, and high schools. It is this sort of collaboration that brings opportunity to people's lives.

Second, to fill the long-term talent pipeline, MAGNET and the Greater Cleveland Partnership are leading a coordinated effort throughout Cuyahoga County to bring together community stakeholders to address the talent shortage together. This ambitious initiative, known as the Workforce Connect Manufacturing Sector Partnership, is aimed at doing what no one manufacturer or organization can do alone: to create large-scale, lasting solutions.

Funded locally through the City of Cleveland, Cuyahoga County, Deaconess Foundation, Fund for our Economic Future and others, Workforce Connect is one of a network of programs coordinated statewide through the Ohio Manufacturer's Association to address workforce issues. Initial strategies are focused on connecting various populations – including graduating seniors in the Cleveland Metropolitan School District, ex-offenders, and those in low-paying non-manufacturing jobs – into training at their local community college, and then directly into high-wage, high-skilled manufacturing careers.

We can only do this together – as a community, as manufacturers, and as educators. By coordinating our resources, we're able to empower manufacturers to own their talent pipelines. This way we're able to move the needle for communities across Northeast Ohio and beyond.