A black tank sits in a dusty field in the blazing Texas sun. It doesn't look like much, but inside it's a brilliantly engineered water filter running entirely on waterpower.
"Inside it looks like a Swiss watch. It has many, many small moving plastic parts that require high-precision molding using some challenging specialty plastics that need to be manufactured and assembled into a system that is very compact and robust. They can last for 10, 20, often 30 years, even in the most hazardous conditions. Many people have tried to copy and imitate what we do, but they can't," says Toby Thomas, President & CEO of Kinetico.
Kinetico is a global company based in Newbury, Ohio. It employs more than 500 people in nine countries. It's privately held, but estimates put annual revenue in the hundreds of millions. The company makes innovative water treatment products – softeners, reverse osmosis systems, and filters for homes and businesses. The vast majority of them don't require any electricity or batteries. Kinetico is a market leader in every category it's in.
"We're this little company that not many people have heard of, but those who need us absolutely know us, trust us, and depend on us. We're really rethinking water. We do that by bringing the best technology, the best people, and the best services to help people get better water in their lives," says Thomas.
You may not know the company name – but you've probably used water they've treated. Kinetico helps a national coffee chain filter its water so your cappuccino tastes the same no matter what city you're in. They purify water for treatments like kidney dialysis. They make contaminated water safe to drink in hundreds of thousands of homes and businesses around the world. And they're able to do all of this because of one thing: relentless innovation.
"We relentlessly and systematically look at how to go to market more effectively, how to improve the effectiveness and efficiency of our products and services, and how to make things in a way that's not only economical and cost-effective but produces very high-quality product and does so in a very reliable and effective way. It's not rocket science – know what you're good at, stick with it and really focus on it. Focus on the critical few things that drive your success in the market and build your innovation around that," says Thomas.
---
---
Successful innovation has fueled rapid growth – Kinetico has tripled in size in the last decade. And it's become a triple threat when it comes to innovation. One, they innovate their products and how they manufacture them. Bright yellow robotic arms work the line, installing cartridges in water systems. And they just started linking their products to the Internet of Things (IoT) so customers can get alerts on their smartphones when filters need changing. Two, they innovate their marketing and distribution. They drive demand by educating people about the universal need to understand what's in your water and how to make it healthier. They constantly improve how they get their products to market through a robust network of dealer-installers. And three, they innovate processes and supply chains to continuously improve quality and efficiency. Most importantly, all this innovation is tied directly to the company's strategy.
"If you don't have a good strategy and you don't have a good foundation, it's the old metaphor – you can't build a house on sand. You fundamentally need to start from where you stand and what you do really well, stick with it, and really build from that. The growth will come, the opportunities will come," says Thomas.
This laser focus on strategy frames the company's decisions about where to invest time, energy, and money. Jeff Coy, Kinetico's vice president of operations, believes the key is not to get distracted by too many "shiny objects" and do too much at once – particularly when it comes to innovating with new Industry 4.0 technologies such as robotics and automation.
"It's a matter of prioritizing. What are the one, two, or three things that you really think you need to do to get better? Prioritize them, sequence them, do one thing at a time, get it done, and then move to the next thing. The second recommendation I would make is to find others who are in a similar place, similar sized companies, but maybe a step or two further along the journey. Talk to them, learn from them, see what they're doing. Our automation journey started that way. We spoke with local folks who have already dipped their toes in that pool, and we learned from them and, frankly, designed our strategy around what they've learned," says Coy.
Automating production has been a game changer, helping to scale production and improve quality. It's also created new opportunities.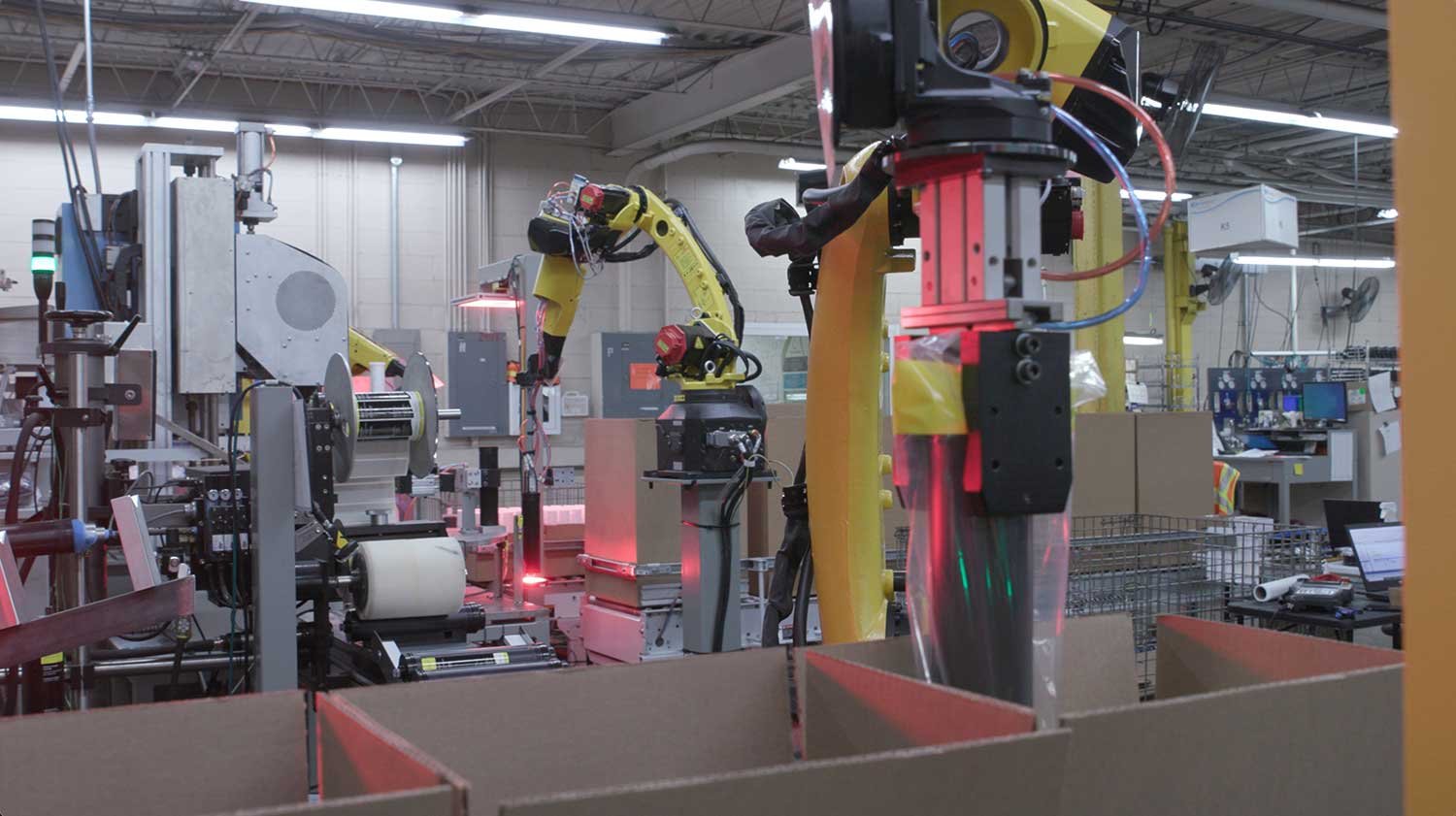 Robots on the production line at Kinetico in Newbury, Ohio.
"This is allowing us to take folks and move them into more value-added, higher-technology jobs. It's not just the operators, it's also our maintenance team – they have to learn how to manage the robots and deal with the robots. It's our engineering team in learning how to deal with brand new technologies. It's even our supervisory staff, learning how to interact with these robots and manage this automation, so it's providing a lot of nice opportunities across our team," says Coy.
Kinetico plans to continue to transform its Newbury operations with robotics, cobots, and automation and is actively working to introduce sensors into its products to enable IoT connectivity. This will create a suite of services that customers can use on smartphones and smart home systems to monitor water quality and maintain treatment systems. Coy is passionate about innovation and everything it allows Kinetico to achieve.
"As a native Cleveland kid and an engineer in manufacturing, one of the things I am most proud of is that the product we build here in Newbury, Ohio, is shipped all over the world. Every week, we are loading ocean containers 100 yards away from here. We're filling those ocean containers with the product we built here and shipping them to Asia and Europe. And we are shipping multiple containers every single week. Nothing brings more pride to me and our team," says Coy.
There's almost constant talk these days of reshoring manufacturing and taking back jobs from overseas. Yet, here is a company in Northeast Ohio that is already doing it – quietly exporting products to China and competing very effectively in that market. Many people in the region would never believe this is happening right here. And Thomas believes that comes back to Northeast Ohio's tendency to undersell what we do and what we're capable of – particularly when it comes to innovation. Baiju Shah, President & CEO of the Greater Cleveland Partnership and head of the Cleveland Innovation Project, agrees.
"We forget that innovation is literally in our DNA. It's what powered the growth of Cleveland's industrial sector – we were the Silicon Valley of the early 1900s. This is where innovators came, from wherever they were in the country or the world, to pursue their dreams. We went through a long period, however, where companies focused on managing operations rather than continuing to transform through innovation, and we lost that edge. But it's in our DNA, and it's starting to be expressed again across our business sectors. Innovation builds on our strengths and our heritage, and it can be leveraged to drive business growth and prosperity," says Shah.
To capture this opportunity, Thomas believes we need to come together to build a more robust innovation ecosystem.
"I think there are three things that we need to fix as a region. Access to high-quality manufacturing talent is critical. It's very difficult to find really great folks to be in our plants and help design and run our systems. Getting great people is the first thing. The second thing is basic infrastructure – the roads, the power grid. Just recently, we had a big power spike that took us down for the better part of the day. Those are the infrastructure things in the area that we fundamentally need. And third is a more collaborative environment among manufacturing companies in the region to come together, share ideas, and work on best practices and policies. I think if we can get those three things better aligned, Northeast Ohio can move from a great to an exceptional manufacturing zone," says Thomas.
As for Kinetico, since the need for safe water is universal, they see no end in sight for growth. And they plan to keep unlocking that growth with relentless innovation – one glass of crystal clean water at a time.