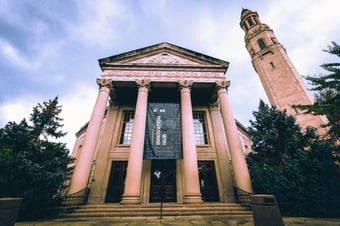 If you've ever used a Crest SpinbrushTM or a Swiffer Sweep + VacTM, you can thank Cleveland innovation powerhouse Nottingham Spirk. Prolific inventors, they helped companies churn out thousands of innovations over the past 50 years. But they wanted to do more. So, they teamed up with global consulting firm EY to create the EY-Nottingham Spirk Innovation Hub.
"EY was founded in Cleveland in 1903 as Ernst and Ernst. Now, why were they founded in Cleveland? Because Cleveland, at the time, was a manufacturing powerhouse. It was the first wave of true industrial revolution in Cleveland," says Jerry Gootee, EY Global Advanced Manufacturing Leader. "So, what we have here is a legacy of manufacturing in this region. EY could have located this Innovation Hub anywhere in the country, but they decided on Northeast Ohio because of the power of what's here."
Fittingly, the new Hub is the first of its kind anywhere.
"There's nothing like it in the world where you have a global consulting company like EY and a vertically integrated innovation company like Nottingham Spirk fused together the way we've done it," says John Nottingham, Nottingham Spirk Co-President and Co-Founder.
The 66,000-square-foot Hub opened in 2021 in a massive historic building modelled after the Pantheon in Rome. Outside, its sweeping stone columns evoke the past. Inside, it's a journey into the future designed to help manufacturers reinvent themselves and their industry.
"This is where the magic happens. We can actually design, engineer, and go make things," says Gootee. "It could be physical or digital. It's hardware and software. It's new businesses, new business models, new products, new services."
The Hub has technology everywhere: Microsoft Surface Hubs, HoloLens augmented reality goggles, virtual reality experiences, and a 4K LED touch screen video wall. It's all part of an immersive and interactive experience called the wavespaceTM. A manufacturer can go in with an idea, and the Hub can simulate factory-of-the-future production, rapid prototyping, and end-to-end supply chain experiences to bring that idea to life virtually. Then, if a manufacturer decides to go ahead with the innovation, the Hub uses Nottingham Spirk's Vertical Innovation™ approach to physically get it to market — from design to engineering to prototyping to packaging.
"It's vertically integrated, it's seamless, it's relentless, and it doesn't stop until you get to commercialization. Only 5% of U.S. patents get commercialized. But we get to commercialization 95% of the time. That's pretty powerful," says Nottingham. "You come into the wavespaceTM with an idea and in months, you have something on the market being enjoyed by a customer, generating high profit income. That's the mission. That's success."
Commercialization is critical because at the moment, it's a weak spot for Northeast Ohio. According to McKinsey & Company, Cleveland generates about 20% more inventions per $1 million invested. But only one startup is commercialized for every 10 patents. That's three times below the average in peer cities – something the Hub is determined to change. A key piece of that puzzle is bringing the right partners to the table to support entrepreneurs and innovation at every step of the journey.
"Obviously, we have strong tech partners. But we also have the ability to help with capitalization on the front end. So, an ecosystem of capitalization partners and resources, and then the entire value chain ecosystem – distributors, customers, end consumers, suppliers," explains Gootee. "We can convene those value chain partners that really need to be involved. That allows us to deliver concepts to market at speed and scale, in an ecosystem that delivers a capitalization on the front end, a value chain that creates the business model and the tech partners to execute."
The Hub has been open less than a year and, already, the success stories are stacking up. The team developed a game-changing digital strategy playbook for one of the largest global manufacturers of water heating and HVAC equipment. They worked with a large automotive manufacturer to uncover $3 billion to $5 billion in new market opportunities. They helped one of the largest multinational home appliance companies design an innovative new smart controls unit and commercialize it. And the list goes on.
The Hub has worked with more than 65 companies since opening last fall – from Fortune 500 brands to middle-market manufacturers to individual entrepreneurs. Some of them are from Cleveland, but many come from all over the world, creating an opportunity to showcase Northeast Ohio's manufacturing prowess and growing innovation ecosystem.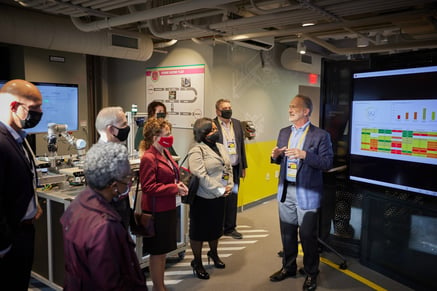 "We have a real opportunity to use this as a platform for Northeast Ohio to demonstrate what we have to offer, and that's an incredibly important asset," says Gootee. "Combine that with the Cleveland Innovation District, and the fact that we have the premier medical center in the world right here. This ecosystem of medical excellence and innovation is second to none. We really want to capitalize on the strengths of the region, tear down the pillars, and build bridges so we can collectively and continually grow our innovation capabilities."
Baiju Shah, President & CEO of the Greater Cleveland Partnership, couldn't agree more. "We have big and audacious goals we are pursuing as a region. The innovation economy is key to our future. This means we need to create an environment where innovation and innovators can thrive. It takes a lot of effort to not only build that ecosystem, but to connect it, to sustain it, to nourish it. There is constant effort required and it starts with committed, collaborative leadership."
Exactly the kind of collaborative leadership exemplified by the Innovation Hub. It's not just a space for individual manufacturers to bring their ideas to life. It's a place for the region to come together and innovate for the future. Organizations across Northeast Ohio see that potential, and they're rallying behind it.
"Team NEO contributed to the build-out of this asset. We've been working closely with MAGNET on the Blueprint for Manufacturing in Northeast Ohio and pushing that forward. I'm on the advisory board of the Cleveland Innovation Project and they're completely supportive of the Hub," says Gootee. "We got this done because of the power of the collaboration. And it's that kind of collaboration that we need more of, not only to help manufacturing companies reimagine their individual futures, but to unlock a brighter future for the industry and our region."
The pandemic and the resulting supply chain chaos have thrown all the chess pieces in the air for manufacturing. Companies and regions alike are jostling to grab those airborne pieces, redefine the board and win. The way Gootee and Nottingham see it, there's tremendous opportunity in this moment to establish Cleveland as a leading player in manufacturing innovation.
"We have the pieces, parts, expertise, and elements to be part of a broader ecosystem in Northeast Ohio. We have it all. Companies can come here and really thrive. I think that we can soar to incredible heights. When you think about it, we are building a very robust launchpad, but our clients are the rockets. I think we've got the best launchpad anywhere I've seen. We're ready to go," says Nottingham.
Over the past 50 years, Nottingham Spirk's innovations have generated more than $50 billion in new sales for their clients. With powerful partnerships and smart investments in Northeast Ohio's innovation ecosystem, the hope is that the Hub will continue to drive billions in profits for manufacturing companies, plus an exponential return for the region.