Manufacturing isn't just what Randy Bennett does, it's who he is. It's in his blood.
"As a family, we didn't really go out and play ball, we built things. If we wanted some time with our dad, we needed to go out to the garage and interact with him while he was doing things on the drawing board. Dad taught us the trade, he taught us the business, and he taught us a lot of things that we work to carry on today, to carry on his legacy," says Bennett, co-owner of Automation Tool & Die (ATD).
ATD started in his father's garage in 1974. The company now has more than 80 employees in a 102,000-square-foot, state-of-the-art manufacturing facility on 22 acres in Valley City, Ohio. ATD uses advanced technology to design and build high-volume progressive metal stamping dies, produce metal parts, and add value to these parts with things like welding and assembly.
When Bennett and his brother graduated from Medina High School in the '80s, they were proud to follow their father into manufacturing and take over the family business. But about 20 years ago, that pride diminished and manufacturing stopped being a career of choice for young people. The pipeline of new talent that once flowed into Northeast Ohio's factories slowed to a trickle.
"The skills gap is the biggest problem manufacturing faces, and there's no close second," Bennett says. "The challenge is that the culture changed from 'trades are perfectly okay' to one where university is the only option."
The college-or-nothing shift Bennett saw wasn't unique to his peers, industry, or even region. It was a nationwide culture shift that took hold in the '80s and '90s, and it has been identified as a major contributor to the dearth of middle-skill workers today – those who have received training beyond a high school diploma but have not attained a four-year degree, precisely the kind of employees ATD and other manufacturers need to keep production flowing and grow. Bennett's solution? To bring back apprenticeships and build his own pipeline of talent.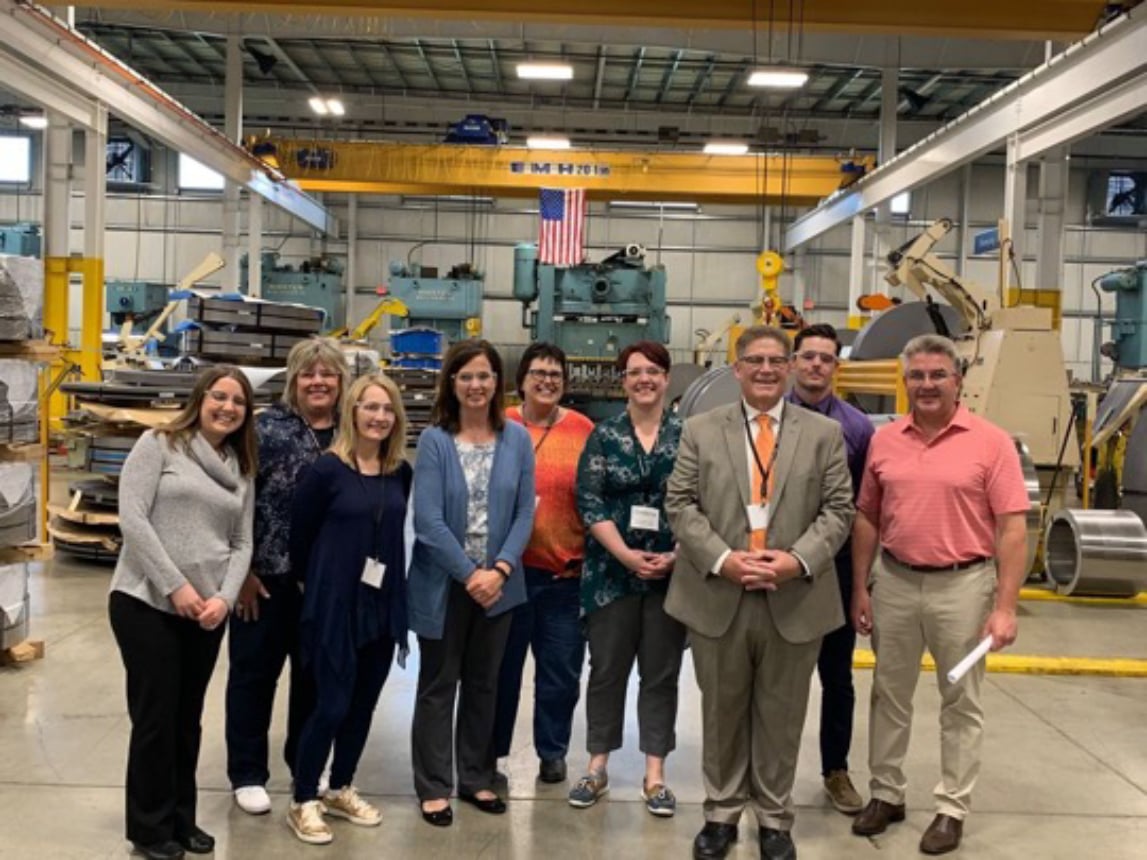 Randy Bennett hosting teachers from Buckeye Local Schools in Medina, Ohio.
"We have engaged in multiple strategies: upskilling, stackable certificates, apprenticeships, and professional and personal development opportunities for our team. Workforce development – being wide and deep – takes time, so we're working hard at it. It just goes on and on, it's just a continual thing," says Bennett.
---
86% of manufacturers say hiring is extremely difficult. Almost 60% say it's so bad it keeps them from growing.

(Source: Ohio MEP 2020 Manufacturing Survey)
---
After creating his own apprenticeship and training programs, Bennett realized much more needed to be done. That's when Bennett and 10 other manufacturing companies came together to form the Medina County Manufacturers Partnership (MCMP). Their goal is to work with other local manufacturers and colleges to bring state-approved apprenticeship training to their community. They spend most of their time raising awareness about the lucrative high-tech careers that manufacturing can provide. Bennett invites hundreds of students and teachers to tour his factory every year. For him, there is nothing more rewarding than watching these seeds take root.
"That's the meaning of the work. That's the fuel. Manufacturing is tough and there are a lot of challenges. But on the people side, when you can do something to help someone establish a career path for their entire life, it gives back what was given so easily to me. That's a meaningful way to pay it forward," says Bennett.
Bennett says helping young people find their way to something they love is the most rewarding part of his job. People like Paul (we agreed not to use his last name) – he was stacking shelves at a grocery store 10 years ago when he decided to apply for an entry-level job at ATD. He had several different roles in different departments over the years, but nothing really clicked.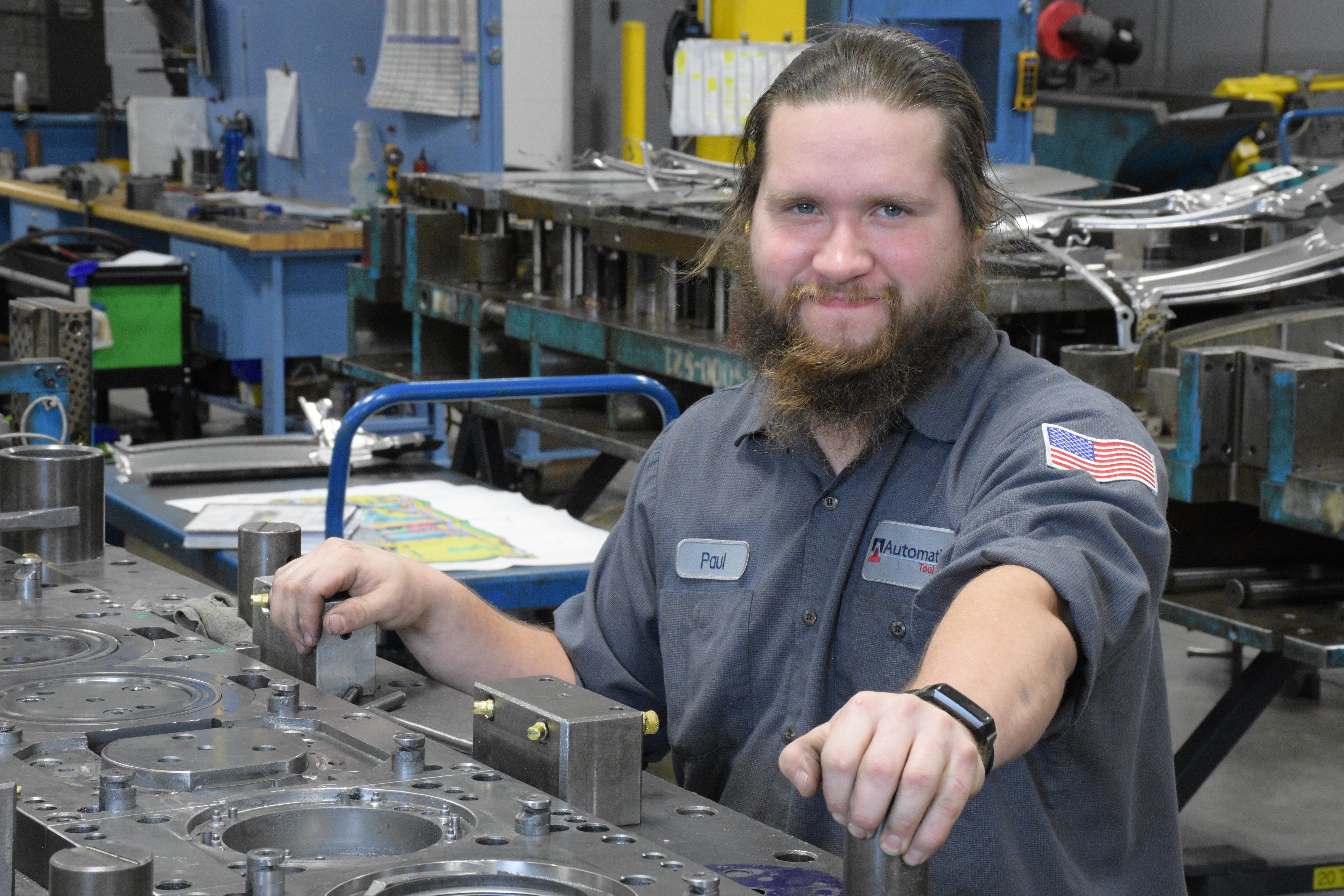 Apprentice working at Automation Tool & Die.
"I was driving a forklift and starting to get bored with that. At home, I was watching YouTube videos and had gotten into playing with 3D printing and CAD. I've always liked to tinker with stuff and make stuff, so the attraction was there. I had known these tool and die makers over the past seven years. Seeing what they did was always cool, and they always knew everything when I asked them questions about the projects I was doing at home. So, this was a natural step of moving things that were a hobby into a career," says Paul.
Two years ago, encouraged by Bennett, Paul decided to enroll in ATD's tool and die apprenticeship program. He says it feels great to work for a company that invests in him and believes in his potential. He's now more than halfway through the program.
While many companies have in-house apprenticeships and training programs, it's still critical to build foundational skills, such as blueprint reading, technical math, machine operation, and software programming. A company like ATD, might have a handful pursuing an educational certificate but not enough to hire an instructor or invest in costly equipment. This is why local manufacturers need to come together. Pooled resources and curriculums play a key role, and that's why investing in formal, state-approved apprenticeship programs in collaboration with colleges matters. The industry is calling for more support and investment in these German-style apprenticeship programs, in which students split their time between classroom learning and on-the-job training. Manufacturing CEOs and workforce experts alike believe these programs are a critical pathway to reinvigorating manufacturing as a career of choice.
"We trained people this way for 100 years. This isn't new to America. This is how we built the middle class; we just forgot how to do it for the last 40 years. In Northeast Ohio, we're proud to be reviving this age-old tradition. And if we do all this right, we can even move toward a future where we make ourselves the manufacturing education capital of the United States," says Dr. Ethan Karp, President & CEO of MAGNET.
Bennett is definitely a believer. ATD's apprenticeship program has been a resounding success. He's particularly proud that once an apprentice has completed the program – one year of service, four years of apprenticeship (with paid schooling), and a four-year salary vesting schedule – they can walk away owing nothing. He says, "Our credentials are transferrable, and I think that's key, so people can do what they need to do. If they're capable and passionate and an opportunity is there, then they should take it." Though, it is worth noting that Bennett has found apprentices to be particularly loyal. Research by the U.S. Department of Labor tells a similar story: Apprenticeship programs reduce turnover rates, increase productivity, and lower the cost of recruitment.
Paul certainly seems to think he's on the right course: "Before this, I would come home unhappy. And apparently my wife says everything about my attitude has shifted over the past two years because I genuinely enjoy what I'm doing. I have a clear path for advancement and pay scale. I enjoy the machining, the CAD – who knows, I might even decide to become an engineer. Depends on what I fall in love with."
Bennett says he now "sees the happiness in Paul's eyes." He believes training and growing talented young people like Paul is the single greatest investment he can make.
"These folks will run through wall, after wall, after wall to be a part of the team, earn their spot, and grow with the company. Dad always taught us, if you take care of the store, the store will take care of you, and with that, all of this becomes really meaningful, because we're focused on unselfish things. We're focused on each other," says Bennett.
It's more of that collaborative spirit that needs to flourish across Northeast Ohio to ensure that the revival of German-style apprenticeships produces made-in-America manufacturing education. This will help fuel the growth of the industry – and reignite the pride Bennett felt when he followed his father's footsteps into manufacturing.