Deonia Duncan was 16, in high school, and working what she describes as a "dead-end job" in a pizza shop. Eddie Taylor had just been released after serving 13 years in a federal prison. Two very different stories — but with one thing in common: Both Duncan and Taylor found a new future in manufacturing. And they found that future thanks to collaborative programs that are bringing companies and communities together to solve manufacturing's talent shortage.
These training programs are based on a stark truth. The skills gap is such a massive and complex problem that no one company or organization can solve it alone. Despite post-pandemic unemployment, in 2021 there are still an estimated 8,000 open jobs in manufacturing in Northeast Ohio that companies can't find people to fill. And that number is expected to quadruple in the years ahead.
"The future of the industry really relies on finding a new generation of skilled workers. And we have to meet these new skilled workers where they are," says Autumn Russell, Vice President, Diversity & Inclusion, Early College Early Career, MAGNET.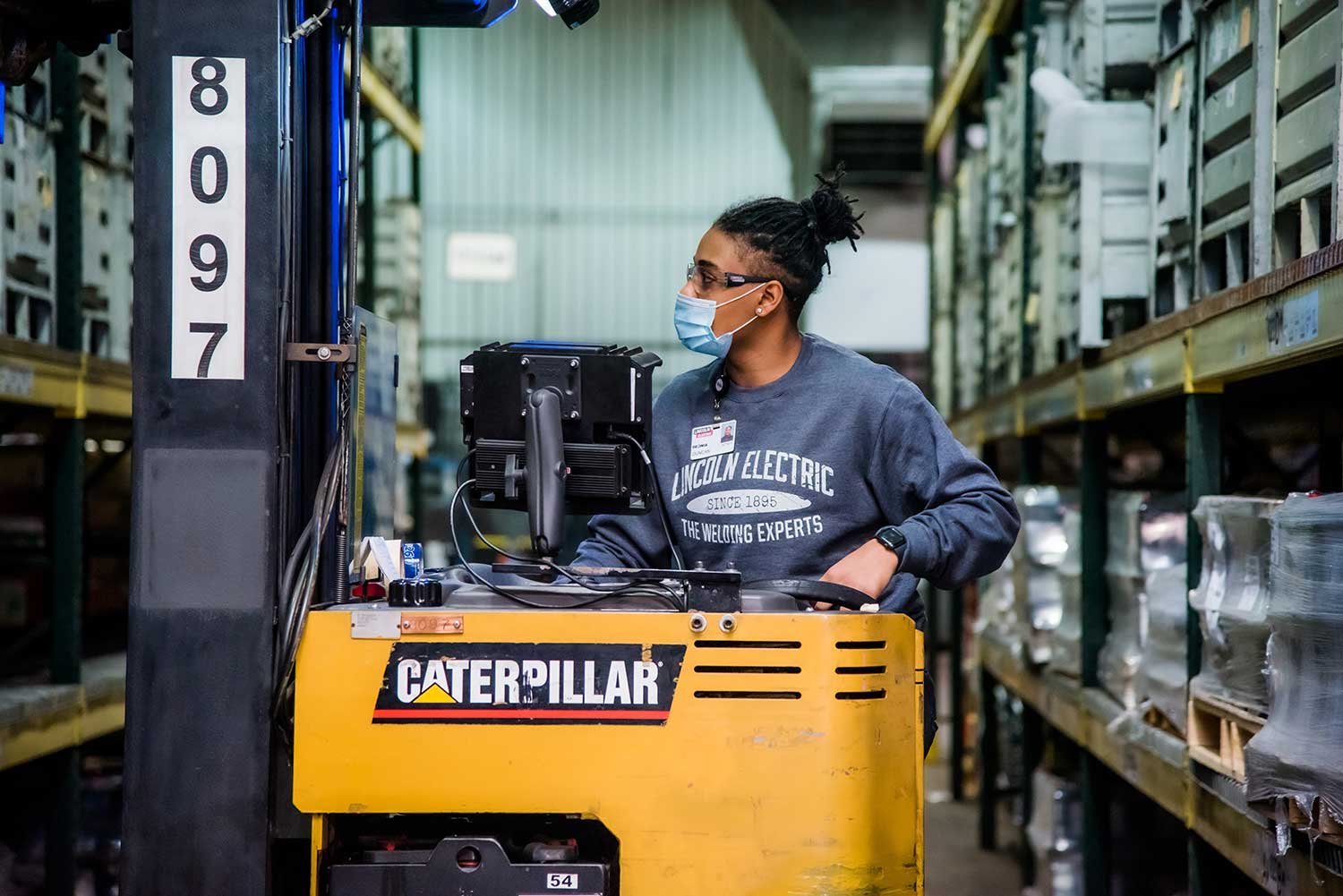 Deonia Duncan at Lincoln Electric.
Duncan's pathway into manufacturing came when she was in 10th grade at the John Marshall School of Engineering in the Cleveland Metropolitan School District. Her principal suggested she apply for the MAGNET Early College, Early Career (ECEC) program. It's the first of its kind in the nation. Inner-city high school students get to take college courses in manufacturing and do paid apprenticeships at local manufacturers, opening up careers and college education sponsored by employers.
---
In one study, manufacturing ranked dead last among career industry choices for 18–24-year-olds.

(Source: Deloitte and the Manufacturing Institute)
---
"I wanted to try something new because I always liked to do hands-on stuff myself. So I just decided to go ahead and go for it," says Duncan.
Conversely, Taylor's introduction to manufacturing came when he was struggling to find a job after leaving prison.
"I needed a lift. I needed a fresh start. I didn't want to start off where I left off. So I was trying to change my life for the better," says Taylor.
That change came when someone suggested he enroll in an innovative new program launched in 2020 called the ACCESS to Manufacturing Careers Program. Taylor was one of 12 participants who made up the inaugural class of justice-served individuals seeking to reenter the workforce. Since that first class, 75% of graduates have secured jobs — including Taylor, who was hired as a material handler at Elsons International. And there's been zero recidivism.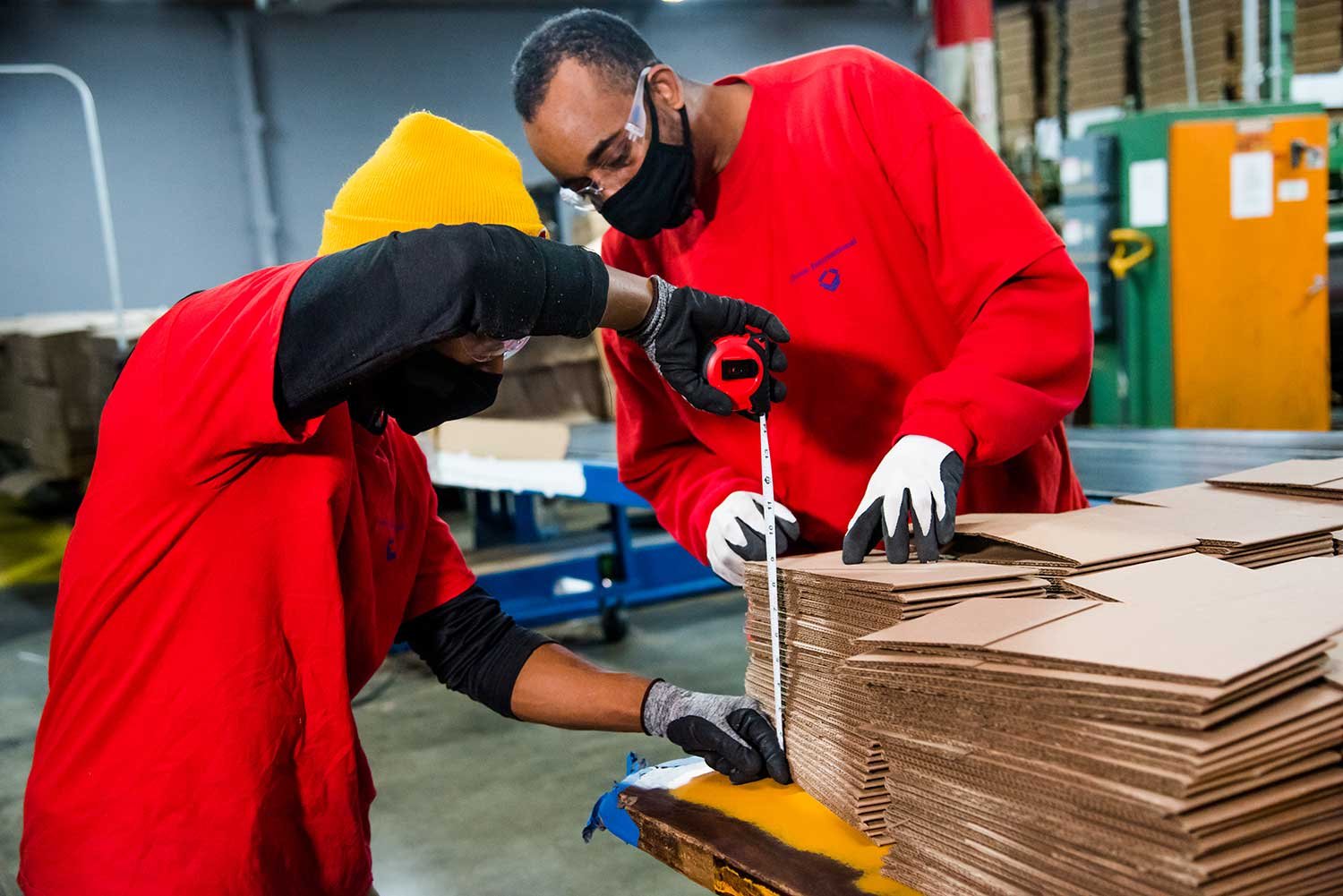 Eddie Taylor at Elsons International.
Duncan and Taylor are two very different people with different paths and journeys, but both were successful for the same reason: radical collaboration. Both of their programs brought together everyone who was needed to build a seamless pipeline into manufacturing from CEOs to funders, from workforce groups to nonprofits. This collaborative and holistic approach made all the difference.
---
About 41,000 students graduate from high school annually in Northeast Ohio.

Only 5.5% of them go directly into manufacturing.

(Source: Team NEO, MAGNET analysis)
---
Russell, the head of the ECEC program, says an integrated approach is the only way to tackle the massive, complex, and often invisible barriers that keep people from connecting with opportunities.
---
---
"Eighty-seven percent of our students live below poverty guidelines. Eighty-three percent identify as persons of color. And many of them, at just 16 to 18 years old, have experienced homelessness, inadequate nutrition, and food insecurity — many barriers and challenges that they must face each and every day. So our secret sauce is really our mentorship component. Students from inner-city and underrepresented populations often don't have the support needed to be successful, and our mentors are really intentional about being that support, that guide, and that consistent person in their lives," says Russell.
---
If we doubled the number of Northeast Ohio high school graduates going directly into manufacturing each year, it would boost the regional economy by $7.5 billion in 5 years.

(Source: MAGNET analysis)
---
The ECEC mentors help with everything from transportation to groceries so that students can focus on their education. That mentorship certainly worked for Duncan. She started earning college credits at Cuyahoga Community College and working toward an industry-accredited National Institute for Metalworking Skills certificate. And she also learned the soft skills she needed to be a great employee: things like being on time and the basics of personal finance.
"They helped us get comfortable with understanding a lot about adult life," says Duncan. "I don't think I would be in a good place managing money if it wasn't for the financial classes. They did a lot for us, honestly."
After Duncan completed a paid internship at Lincoln Electric, the largest welding company in the world, she was hired full time in 2019. Since then, she's been promoted and also trains incoming ECEC participants.
"The program has opened up a world of opportunities for Deonia, and the sky's the limit with her skill set, her attention to detail, her interest in continuous learning," says Geoff Lipnevicius, Senior Manager of Organizational Effectiveness and ECEC Program Lead at Lincoln Electric. Lincoln has been a partner in ECEC since the program began, and it's already had 40 student interns. Lipnevicius says it's exactly the type of collaborative program Northeast Ohio needs more of.
"There's a constant need for talent in our organization, including entry-level positions. ECEC allows us to expose students at an earlier age to opportunities in manufacturing. It's a really great collaboration between MAGNET, academic institutions, and manufacturing companies to provide an organized structure for earning and learning," says Lipnevicius.
Since the ECEC program began four years ago, 80 students have successfully graduated. And 80% of them went straight into a manufacturing career, straight into college, or a combination of both — a remarkable achievement.
"My proudest moment," says Duncan, "is being able to help everyone as much as possible. My mom, she's pretty happy. And my dad, he's also happy. They're not used to things like that. They don't have these kinds of jobs, and they weren't offered these opportunities. So they are very happy. Especially with the ECEC program, because it took me from being at a dead-end job to being an employee at a big-time company."
Now, at 19, Duncan is able to help her family with bills and groceries.
"It makes me very proud to know that students like Deonia are breaking cycles, breaking that generational cycle of poverty, and increasing their knowledge and awareness and skills that will bring wealth not only to their families, but also to their communities. We're able to show that manufacturing can make a big difference, can be a game changer for a lot of people," says Russell.
Manufacturing has had a positive impact on Taylor's life, too.
"Manufacturing has changed my life for the better. I go to bed with a purpose, and I wake up with a passion for my job. Accountability to Elsons International changed my life. I just thank God every day. I'm blessed among the rest," says Taylor.
Taylor was able to train through the ACCESS program and start his new job at Elsons, a packaging solutions company, in just one month. He learned fundamentals like blueprint reading, computer literacy, and shop math, as well as soft skills, such as conflict resolution. The idea for this rapid, boot camp-style training was born out of the Workforce Connect Manufacturing Sector Partnership, an industry-led collaboration between companies, community organizations, educational institutions, MAGNET, and the Greater Cleveland Partnership. This group realized that there are nearly 3,000 people, like Taylor, who are released from prison every year in Cuyahoga County. They need jobs, and manufacturing needs skilled workers, so the Sector Partnership designed the ACCESS program to solve both problems.
"Sector partnerships are a game changer because they are led by manufacturers who know the industry best. And everyone else who needs to be involved in making systemic change happen is right there at the table as well. This allows us to meet manufacturer needs while also changing lives. ACCESS is a great example of that," says Dr. Ethan Karp, President & CEO of MAGNET.
Elsons International President & CEO Andrew Jackson, who hired Taylor, agrees that ACCESS is a game changer. And he would know. He has a long history of providing second chances — nearly half his workforce is people coming from the criminal justice system.
"In the past, you had to work with various agencies, and all of them sort of overlapped and created redundancies in the process, so you got kind of burned out. But the ACCESS program is a very well-coordinated, streamlined effort. It makes life easier for you. They're basically helping you to find talent and getting that talent well prepared in advance," says Jackson.
And the ACCESS program is only the beginning. The companies in this Sector Partnership plan to bring 3,000 new people — focusing on those from diverse and marginalized backgrounds — into the manufacturing industry over the next three years. For employers like Jackson, having a workforce development plan built around giving people second chances is a win-win.
"When people make mistakes, they deserve to have a second chance. And, quite frankly, if you know anything about an ex-offender who really is determined to change their life, they're going to be a better worker than the average person. So, from a selfish perspective, I know that they're going to show up on time, they're going to work a little harder, and they're going to be a great employee, because they are going to invest in making their lives better. It's a two-way street," says Jackson.
And it's a street Taylor is determined to stay on. His plans for the future: "Staying a model citizen, that's No. 1, and working at Elsons International until I'm old and can't work anymore. It doesn't matter what background you come from. It's so easy to give up, thinking that you won't get a chance to change your life and do right. People with my background, with a record, thinking that they're only good for selling drugs or robbing people or stuff like that. If you start thinking positive and get into something that's going to help you, your life will change."
---
---
Like Taylor and Duncan, there are thousands of people in Northeast Ohio who are ready for change. They're unemployed, underemployed — held back by inequity and poverty. These are the systemic problems that collaborations like ECEC and Sector Partnership aim to solve. There's a long road ahead, but MAGNET's Autumn Russell sees a very bright future.
"I see a thriving industry. I see an industry that is welcoming. I see the myths of manufacturing totally debunked — people not seeing manufacturing as dark, dangerous, and dirty, but as full of opportunity. I see youth apprenticeship programs like ECEC being a key pathway into manufacturing, along with all the other workforce development initiatives that are preparing students, young people, reentry populations, and women for careers in the industry. I see a lot of diversity in the future of manufacturing in Northeast Ohio," says Russell.
Fueled by radical collaboration and powerful partnerships, the hope is that one day soon, manufacturing can finally put the whole talent pool to work.