Lincoln Electric was founded in Cleveland in 1895 with $200, an invention, and a dream. John C. Lincoln wanted to manufacture his innovative electric motor and build a company where people worked by the golden rule. One hundred and twenty-six years later, Lincoln is still headquartered here in Euclid, Ohio, but it's now the world's largest welding company — a $2.7 billion multinational corporation, operating in 18 countries with almost 11,000 employees. One thing has not changed though. The company's culture is still centered around the same thing.
"The golden rule — treating others as you want to be treated — it is really simple. And that code of ethics is what is at the heart of successful organizations," says Chris Mapes, Chairman, President & CEO of Lincoln Electric. "When we think about our company, we think first about the culture and the people, then about the products and the processes. Products and processes evolve over time. Our culture is foundationally driven around living and leading by the golden rule. And we know that if we're doing that, everything else follows."
That ethos helped Lincoln gain recognition as one of the World's Most Ethical Companies by Ethisphere® for four years running. And it shapes every aspect of how the company treats its people. Lincoln has not laid off a single employee in Northeast Ohio since the late 1940s. It invests heavily in training and paying for performance. In fact, Lincoln's incentive management system is so unique that several business cases have been written about it by the Harvard Business School.
"All of our employees here in Northeast Ohio are bonus eligible, every one of them. And we have a profit-sharing program for nearly all employees here in Northeast Ohio," says Mapes. "That, foundationally, for me, is a company that cares about its people and recognizes that they can be a big part of the success that we're driving for the company."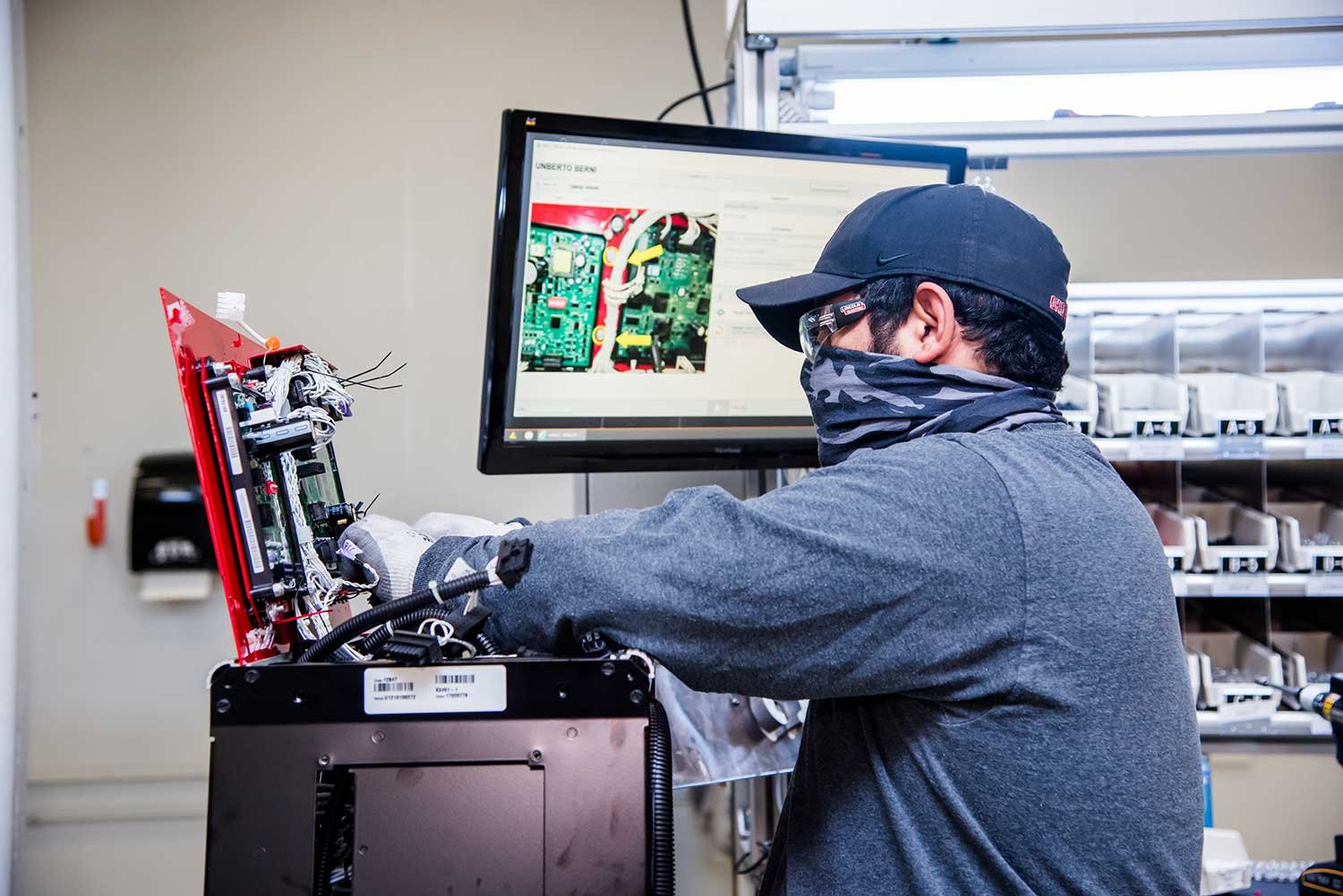 Lincoln is known for having exceptionally loyal employees — many who stay with the company their entire careers. But that doesn't mean it's immune to the shortage of skilled workers affecting the manufacturing industry.
"At Lincoln Electric, we're not going to sit around and say, 'There's a skills gap, there's a talent gap, and that means we're not going to be able to execute on our strategy, because we can't find the people we need.' That's just not an acceptable answer. We are going to passionately continue to do the things that we think are critical to be able to overcome that challenge," says Mapes.
This includes raising awareness of great manufacturing careers, sponsoring tuition for employees, and getting involved in innovative recruiting and training programs like MAGNET's Early College, Early Career program, where Lincoln is a founding partner. Mapes says it's been life changing for his company and for the students who get to intern and take college courses in manufacturing while still in high school.
"I saw one of the young men who is in the program, and I sat down, and he introduced me to his mom, and his mom was so proud of him being part of our company and the program. She said all she could hope for was that one day he might have a chance to work for Lincoln Electric. I remember telling her, 'Well, look, I think you should be very proud, but we need to set the bar higher, because I don't want him to come and just work for Lincoln Electric — I want him to come and be a leader at Lincoln Electric.' And that conversation will always stay with me."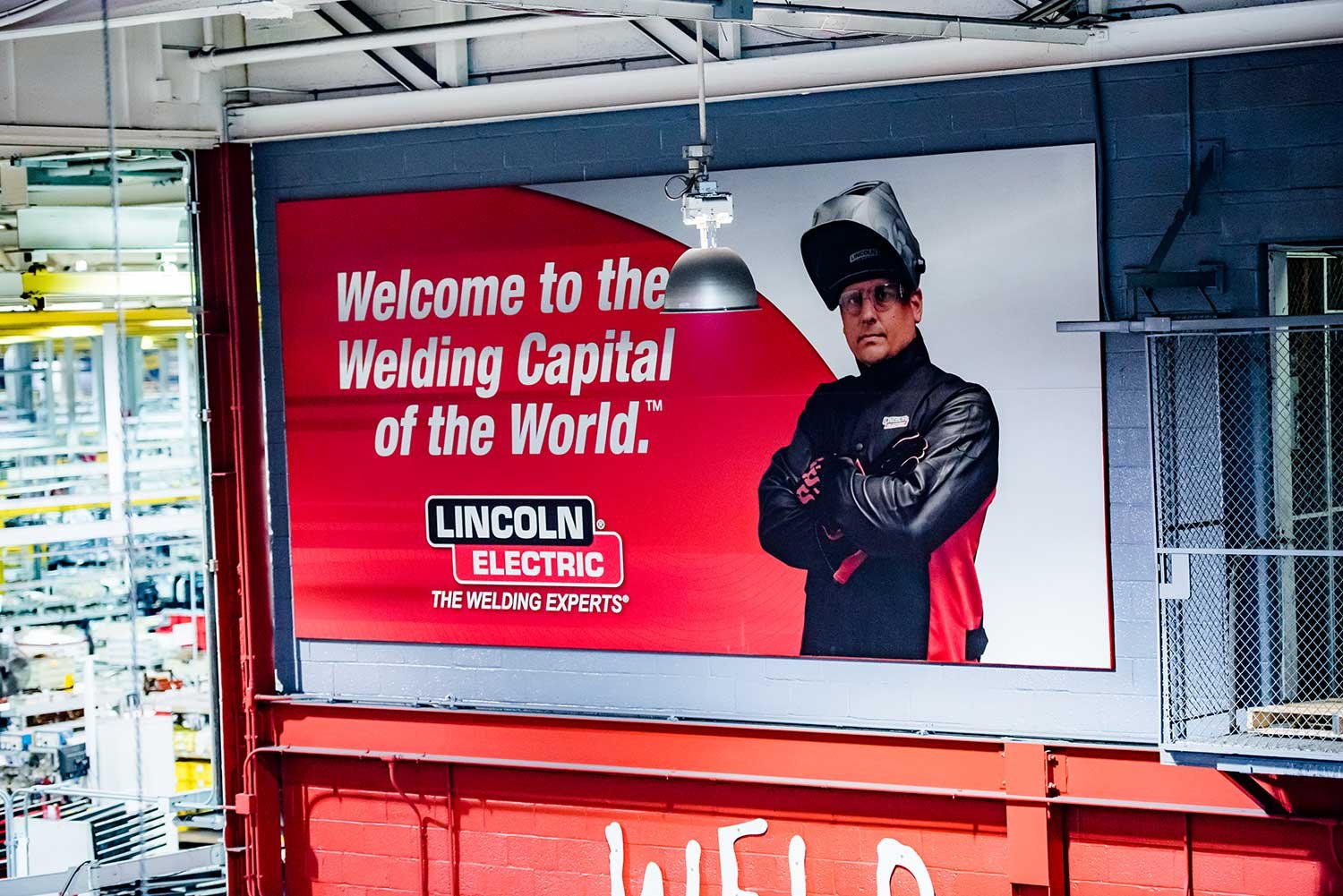 Mapes views the skills gap like he does quality — it's a strategic issue that always needs to be managed through continuous improvement and investment. Like the $40 million investment Lincoln made when it opened its 130,000-square-foot, state-of-the-art Welding Technology and Training Center in Euclid in 2018. It may be a new building, but it's actually the longest continuously operating welding school in the world, dating back to 1917 when the U.S. Army asked Lincoln to train troops heading into World War I. Since then, it's graduated more than 150,000 people, connecting them to welding careers at Lincoln and thousands of other companies. And that, again, goes back to the golden rule. This isn't just about Lincoln. It's also about investing in people, communities, and the industry as a whole.
"When we decided we were going to make this investment, we never hesitated doing it here in our community. It's another example of us bringing our employees closer to our technologies and our customers in to see us, and I think it's really elevated those two elements within the company. We are very proud of it, but for us it's not a risky investment, not a bold investment, but the right investment for our company and our community. We live and lead here in Euclid, Ohio. So as the communities around us get stronger, that only strengthens Lincoln Electric, and that's critically important," says Mapes.
Another crucial part of Lincoln is innovation. It started with that first invention in 1895 of a unique electric motor. Then, in 1911, the company launched its first variable voltage arc welder. Another innovative new welding product sustained Lincoln through the Great Depression. It created new welding techniques that helped build 2,700 Liberty ships for World War II. And during the more recent Great Recession, even though sales were down 30%, Lincoln launched 108 new products to jump-start growth.
"I think innovation is at the foundation of Lincoln Electric and the way we think about the company. And I think when you envision innovation, you have to be aware that innovation may not always be as successful as you'd like. Everything that we do at Lincoln Electric has not been successful around innovation, but in our 126 years, we've come to appreciate and recognize that we need a continued investment in R&D and innovation," says Mapes.
Investing and innovating through good times and bad, through success and failure, has been a key driver of Lincoln's growth. As has being an early adopter of new technology. Lincoln began using Industry 4.0 technologies, such as robotics and automation, back in the 1990s. The company was a true trailblazer considering that today, about 20 years later, only 7% of Northeast Ohio manufacturing companies are using collaborative robots effectively, and only 18% are using automation to its fullest potential. In 2012, Lincoln began rapidly expanding its automation capabilities, acquiring 10 companies in five years. That allowed Lincoln to launch a new large-scale metal additive manufacturing business using 3D printing to make massive parts.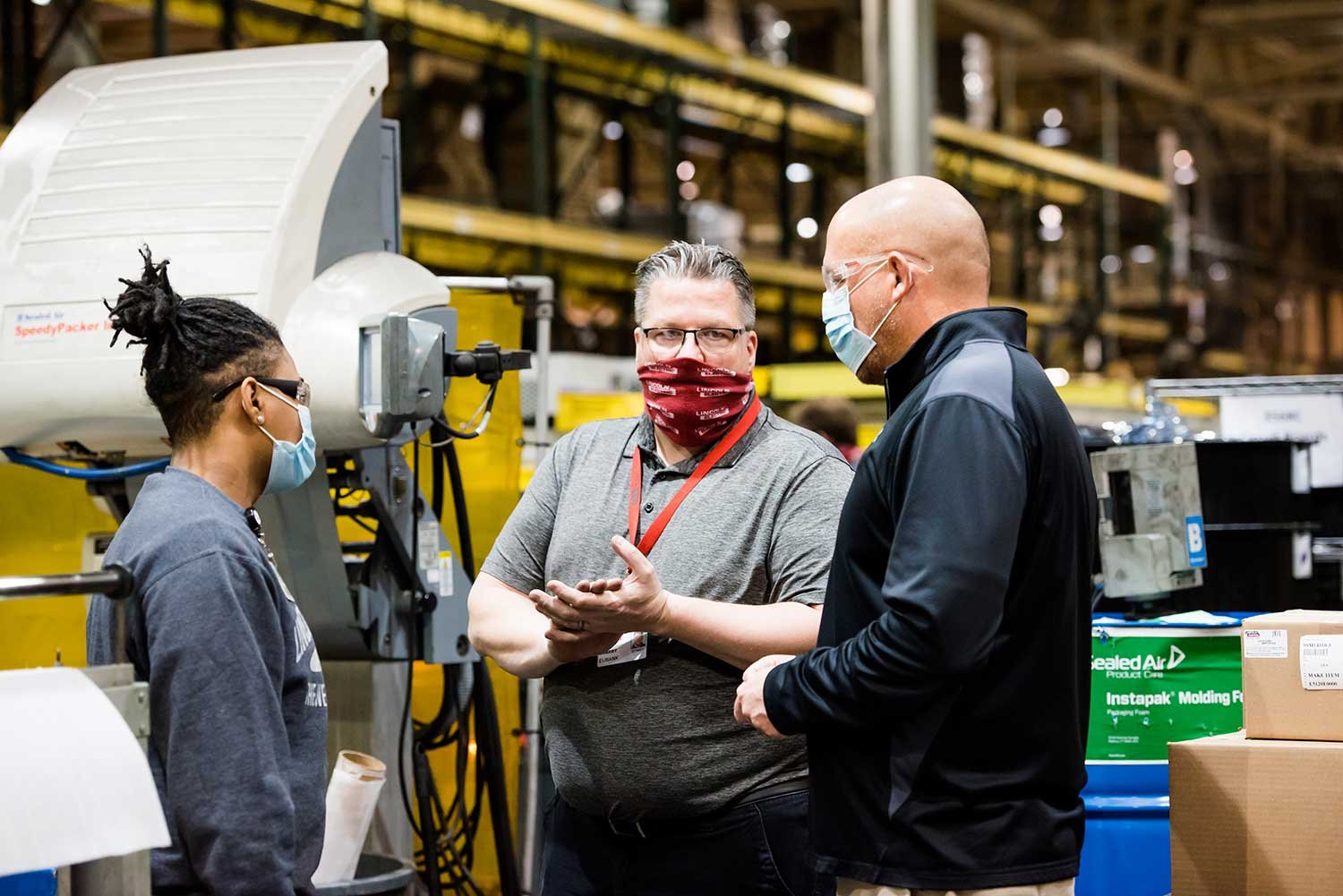 Team members at Lincoln Electric in Euclid, Ohio.
"When we were deciding where we were going to put a new facility for our newest technology, we decided to do it right here. Because we've got confidence in our people and our technologists and our ability to drive innovation. Think about a robotic arm with a wire running through it. And that wire is welding wire. It's steel. We use that robotic arm andthe software engineering development and the vision systems and the ability to be able to direct that metal. And then we use that robotic arm to make very large parts. Think about the large anchor that's needed for a ship. Think about the large casting that's needed for a big pipeline. Think about all of the structures to support an airplane. And the reason why Lincoln is unique is because we figured out how to 3D-print very large, expansive metal parts unlike anyone else in the world," says Mapes.
Lincoln plans to keep aggressively investing in technology and innovation with one goal: making welding easier, faster, and simpler for every customer. Everything comes back to finding ways to weld a better world. Mapes truly believes manufacturing can make things better for people — he's lived it firsthand. He was actually raised on manufacturing wages. His father worked on the shop floor. And now, a generation later, it's instilled in him a strong belief that manufacturing leaders have a responsibility not just to lead their companies, but to step up and lead the industry to a new future.
"Manufacturing today is probably down to 7% to 8% of the GDP of the United States. And I would guess 20 years ago, it was closer to 18% to 20%. I do not believe that we will be able to maintain the leadership position we have globally, or the economy, if we don't have a strong and sustainable manufacturing environment and the innovation that spurs from that. I don't believe we can do that as a pure service economy. It's very, very important for our country to continue to have a robust and competitive manufacturing sector," says Mapes.
Northeast Ohio is well positioned to lead that revival, with its strong manufacturing legacy and almost unrivaled network of global manufacturing companies headquartered in the region. But Mapes says change will happen only if leaders make the right investments.
"Are we making the investments that drive manufacturing, drive innovation, and elevate the communities that we operate and live in? And if we can make those investments and look at ourselves and say, 'Here in Euclid, Ohio, in East Cleveland, we've elevated up a portion of that community and population over the next three, five, seven years because of the investments we're making in manufacturing and technologies in this region,' for me, that's a huge win. And that's what we should do. And we can't accomplish that singularly as a manufacturer. We need to have catalysts in the community that assist us in driving those areas of success. That's what the Blueprint for Manufacturing in Northeast Ohio does for us. It gives us the road map. It gives us a catalyst to execute on, and it gives us a partnership to be able to assist us in driving those programs that we know can be beneficial, which we wouldn't be able to do on our own," says Mapes.
Leadership comes down to making choices. If leaders in Northeast Ohio make the right strategic choices on talent, technology, and innovation, and if they come together to align those choices and drive collective impact, Mapes believes Northeast Ohio can lead the world in smart manufacturing. And he doesn't see this as anything risky or bold. For him, it's just one more example of living, working, and leading by the golden rule.