Jack Schron Jr. is positive Northeast Ohio has what it takes to be the smart manufacturing capital of the United States, and he's doing his part to help it earn that title — much more than his part, by most measures. As President & CEO of Jergens Inc., a Cuyahoga County councilman, and a longtime leader in the worlds of education, workforce development, and community service, Schron has established himself as a champion of Northeast Ohio's manufacturing evolution.
From his unique vantage point, he believes education coupled with a "big tent" mentality will be the most critical component behind the region's advancement.
"For Northeast Ohio to be a leader in manufacturing, we have to lead with workforce and trained skills. That's instrumental to building a foundation for growth, and it will drive manufacturing businesses here. And the manufacturing community has to open up a big tent. That means welcoming special-needs kids to the manufacturing floor. That means welcoming second-chance individuals who were formerly incarcerated. It means that somebody coming from the hospitality sector who wants a higher-paying manufacturing job has the opportunity to upskill into the role. We have to be inclusive. We want everyone to be a part of manufacturing," says Schron.
The Schron family company has never hesitated to lead by example. Since Jergens was founded by Jack Schron Sr. in 1942, the company has always tried, as Schron puts it, "to do the right thing for our people, our community, and the environment."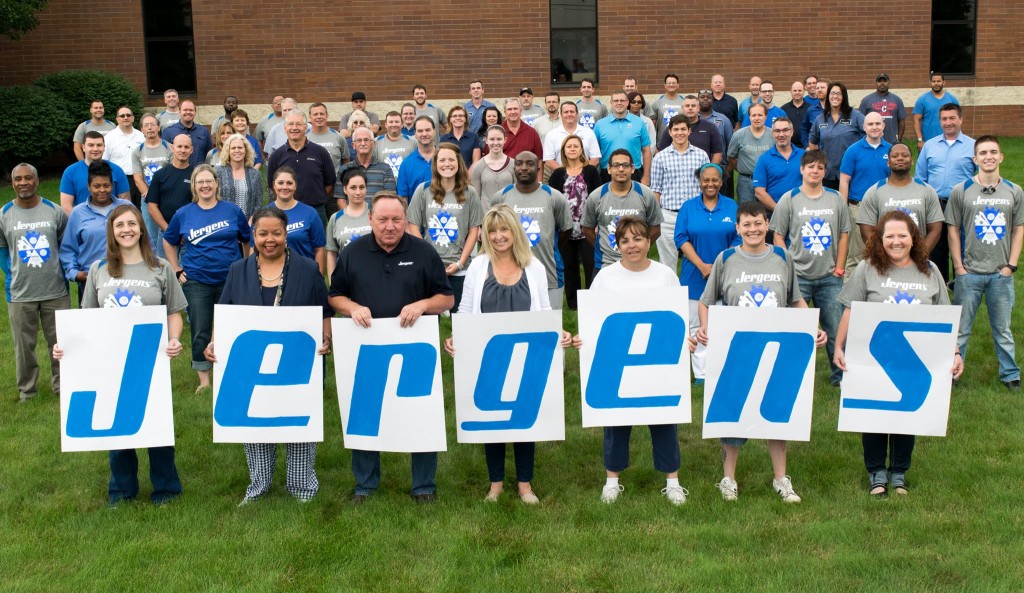 Employees at Jergens in Cleveland's Collinwood neighborhood.
And Jergens has certainly walked the talk when it comes to engaging and training the next generation of manufacturing talent. Schron explains: "Education is in our DNA. Our commitment began when my dad and grandfather took the initiative to train people during World War II so that they would be able to build parts." Those parts would later prove to be crucial to the war effort.
The company continues to live that commitment because, says Schron, "education raises the level for everyone who wants to enhance their lives, not only those earning degrees, but those who want to learn a skill. That's the fundamental foundation behind all of our training programs, apprenticeships, and internships, and it's why we started Tooling U ©."
Tooling U © was launched by Jergens in 2001 as a response to the looming skilled labor shortage. It sold to the Society of Manufacturing Engineers © in 2010 and is now the largest online manufacturing training platform of its kind, boasting more than half of the Fortune 500 as clients. Over the years, approximately 800,000 students have taken millions of courses ranging from basics like blueprint reading to advanced welding techniques.
Within its walls, Jergens makes a concerted effort to ensure its employees have every opportunity to move up through training and skills development — all paid for by the company.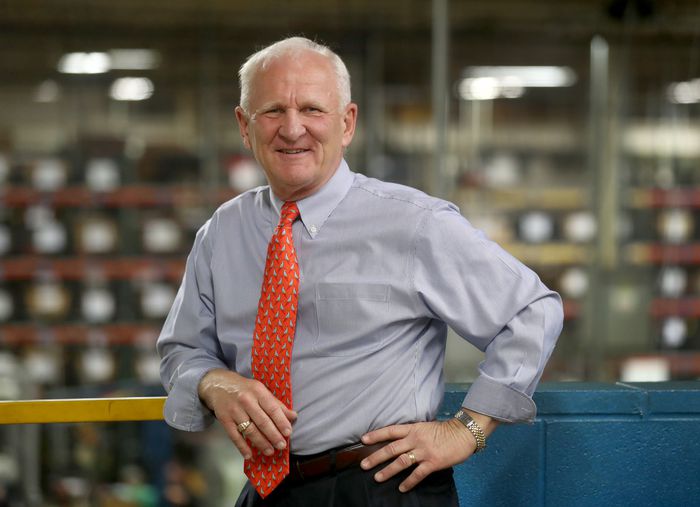 Jack Schron Jr. in Cleveland.
Schron proudly recounts the story of an employee who began her career at Jergens in the shipping department "with no manufacturing skills whatsoever." She has since moved on to run sophisticated machines, a role in the quality lab and, then became a department supervisor. He is also particularly proud of Jergens' first-of-its-kind program for special-needs students. The students and two full-time teachers spend the entire school year at Jergens, in a factory-floor training facility, learning invaluable career and life skills.
If employee loyalty is any indication of whether Jergens has done right by its people, it has no doubt succeeded. Jergens' hallways are flanked with pictures of the 77 employees who have been on board more than 25 years, and the one who has been there more than 50. These are, not coincidentally, the only people in the company who can claim a reserved parking spot — and some of the very same who volunteered to come in on nights and weekends, and even for 24-hour shifts, during the COVID-19 pandemic.
The company's commitment to doing the right thing is further reflected in Schron's choice of headquarters: a former brownfield site, once the home of the Collinwood Railroad Yard. Rather than move to one of the states courting Jergens' growing business, Schron decided to stay local, as his father and grandfather had done before him.
Abandoned by the railroad for more than 20 years, the site was an unofficial dumping ground for Cleveland's east side. Upon seeing it, Schron's staff reacted skeptically, he remembers: "They had a hard time seeing that that was going to be green space with brand-new buildings, but I said, 'If we don't do this, who will?' It took more than a year and a half to clean it up — it was the worst brownfield in the state — but it's 50 acres of green space now. The food bank is right next door to us. The Cleveland Clinic moved in five years later, and the Social Security office after that."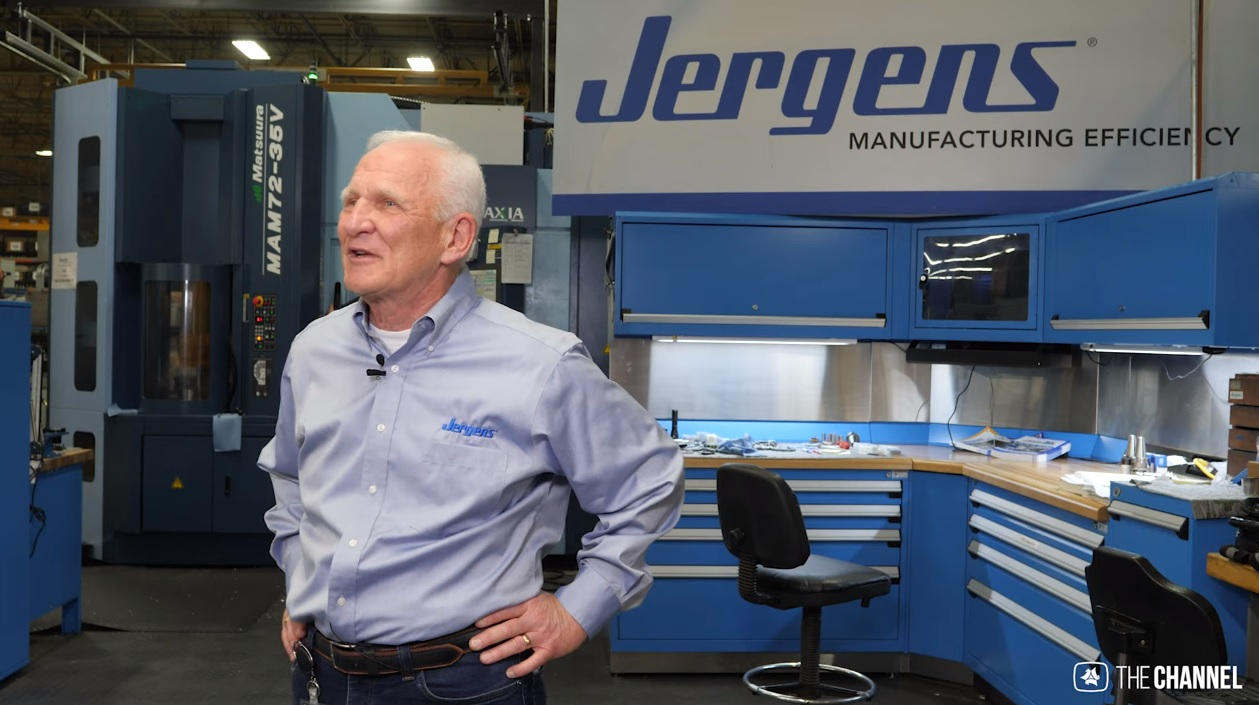 What's more, Schron's bold decision and building innovations — he demolished and used the existing buildings as the foundations for new ones — spurred Ohio to establish an $800 million fund for brownfield cleanups statewide. Schron was made vice chairman for the effort, which has successfully cleaned up sites in Toledo, Cincinnati, Columbus, and Marion, among others.
The site of Jergens' headquarters also allows the company to host more of its most important visitors. Inner-city students from local institutions like Collinwood High School (Schron Sr.'s alma mater) and Ginn Academy have easy access to Jergens for tours, internships, and apprenticeship programs. To Schron, there is nothing more important to the future of manufacturing than allowing young people to see and experience things for themselves. Nothing dispels the myth that manufacturing is dark, dirty, and dangerous quicker than firsthand exposure to some of the most advanced machines in the world in a clean, bright facility.
And there is no shortage of state-of-the-art equipment to see. Schron actually calls the factory floor a "technology distribution center." As it did from the outset, Jergens still makes industrial products that hold other products in place during the manufacturing process, but it also makes the most precise electric screwdrivers in the world (used to build ventilators) as well as threaded inserts for aerospace applications. And it relies on some of the most advanced technology available to make those products.
"In our production facility, there are lasers, robots, automation everywhere, machines that run in a five-axis rotation. It's extremely exciting," says Schron.
Schron is certain that Northeast Ohio has all the necessary elements to be a leading smart manufacturing hub. Within two miles of his father's neighborhood, his family has built a thriving business, supported by local educational institutions, that now employs the next generation of locals eager for the opportunity to work hard, earn a good living, and advance. Now, he says, everyone just needs to get on board.
"This needs to be an all-hands-on-deck effort. The manufacturing sector has to take the lead, but the public sector has to be supportive — nonprofits, charities, foundations all need to sign on. Silicon Valley is the hub of the tech sector, but the educational community, the foundational community, and the business community are all involved. We need to have that same rallying commitment around manufacturing, because making stuff is going to be the watchword for the United States for the next 10 to 15 years. It's coming back, and it's coming back in a big way," says Schron.
With more industry leaders like Schron, powerful community partnerships, and a relentless focus on inclusive workforce development, Northeast Ohio could be well on its way to being the epicenter for both skilled talent and manufacturing innovation.