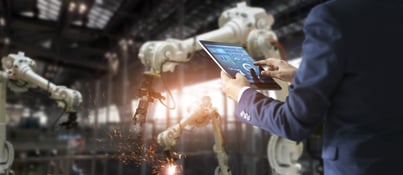 At MAGNET, our goal is to help manufacturers grow, thrive, and compete in Northeast Ohio to fuel our economy and workforce.
Whether it's by improving operations, launching new products, developing workforces, or fueling startups, we strive to build manufacturing success within the region.
But for us to provide the right resources and services to help manufacturers grow, we needed to gain insight into their processes, challenges, concerns, and innovations for the year ahead.
That's why we conducted our third-annual Northeast Ohio Manufacturing Survey.
About the Survey
This survey helps us get a pulse on what manufacturing companies are doing, achieving, overcoming, and expecting in the year ahead, and how they performed last year. It offers an exclusive look at Northeast Ohio manufacturing:
Growth
Challenges
Innovation
Talent
Expectations
How are the stats different this year compared to last year? What percentage of Northeast Ohio manufacturers reported revenue growth in 2018? What new technology are they using to increase productivity? What workforce and talent challenges are they facing? Access the interactive 2019 State of Northeast Ohio Manufacturing Report to find out.
This year's report includes insight from 381 respondents in the 18 counties of Northeast Ohio, representing roughly 67,000 manufacturing workers from November 2018 to January 2019.
Respondents represent the leadership of Northeast Ohio companies, with 48% acting as president, CEO, or owner; in total, 75% were general managers, vice presidents, or C-level. The vast majority of responding companies were small (47% under $10 million in 2018 revenue) or medium (40% earned $11 to $99 million).
Get Your Free Copy: 2019 State of Northeast Ohio Manufacturing Report
Ready to uncover the state of the industry and how it's affecting the Northeast Ohio economy and beyond? Access our complimentary report to discover what Northeast Ohio manufacturers are doing, achieving, overcoming, and expecting in 2019.