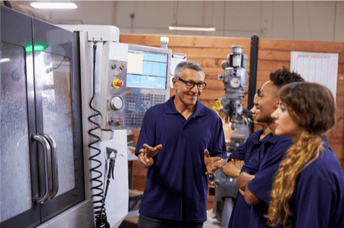 If your entire manufacturing organization was a machine, then operations managers are the grease that keeps it running smoothly.
With a strong business mind, the operations manager is responsible for ensuring quality output, high efficiency, strong strategy, and rock-solid processes.
One of the most important aspects of an operations manager's job, however, is leading teams across the organization. One-fifth of manufacturers reported workforce growth of more than 10% in 2018, and one in four grew about 5%—compare that with the 60% of Northeast Ohio manufacturers who agree that hiring skilled workers is their top challenge.
With a need to add and train workers while retaining high-performing individuals the organization relies on, operations professionals are key to managing this balancing act.
Operations managers who want to drastically improve their management and leadership skills should consider these 4 tips.
1. Communicate Effectively and Often
Communication is the key to effective management. With so many individuals on the plant floor and beyond, using clarity and transparency is the best way to effectively share policies, company initiatives, and process changes.
Often, operations managers communicate with department heads instead of directly with floor workers. That doesn't mean everyone's feedback isn't important, though, so encourage each employee to maintain open lines of communication with you when they'd like to raise an issue.
Your communication style with department heads can encourage a culture of transparency and directness, so lead by example by offering timely, clear feedback when necessary.
>>>Related resource: Uncover how to break down information silos between departments.
2. Create Ample Training Opportunities
Operations managers can revolutionize their companies by offering opportunities for employees to learn and grow. Especially with today's manufacturers facing a "graying" of the workforce, it's critical to your plant's survival that younger or newer employees see a clear path to career development. Furthermore, education improves efficiencies in the long run because with ample training in their position, employees are less likely to make critical errors.
Consider creating an "academy" of professional development opportunities within your organization, where people in any position can take measured steps for improvement in their own position—and elsewhere in the company, should they want to make a lateral move.
3. Focus on Quality—But Not for the Reason You Think
Every operations manager knows that quality output means fewer issues and higher revenue.
But what does high quality mean for other aspects of the business? A focus on quality can translate to more pride of ownership in each employee's responsibilities.
If you encourage all departments to focus on high-quality output, it's engrained in your business that perfection is the standard. Suddenly, fewer employees feel satisfied doing low-grade work. They expect perfection from themselves, and in turn, feel more pride in their role.
This kind of impact is immeasurable for a manufacturing organization.
4. Keep an Eye on the Bigger Picture
Remember, an operations manager's role is related to broader processes and business goals that keep the whole organization running, not the narrow departmental objectives that other managers are focused on.
When you meet with departmental heads, you can transform everyone's ways of thinking by relating each initiative back to the overall business goals. If your organization's overarching goal for the quarter is a 5% improvement on rejection rates, it may help the team move in the same direction if you discourage unrelated initiatives.
>>> Related resource: How Manufacturers Can Adopt a Balanced Approach to Growth With an Entrepreneurial Operating System (EOS)